The Visa Bulletin for July 2020 contained a historical milestone: the Indian EB-5 final action date finally became current after leaping forward for months. The move would have been unpredictable in 2019, before the COVID-19 pandemic struck the world and caused massive shutdowns of public life around the world. As the Indian EB-5 final action date surged ahead, United States Citizenship and Immigration Services (USCIS) anticipated that it would become current in summer 2020, and the prediction came true.
Fears persisted that the status would be short-lived, spurred on only by the pandemic and the many complications it has brought to the EB-5 program. Industry professionals expected the final action date to retrogress once consulates reopened and EB-5 investors living overseas could resume their visa applications. Surprisingly, Charles Oppenheim, the chief of the Visa Control and Reporting Division of the U.S. Department of State, shot down these concerns in a June 16 webinar, stating his belief that the Indian EB-5 final action date would continue to be current for the foreseeable future.
Indeed, in the August 2020 Visa Bulletin, the Indian final action date remains current, despite an announcement by the U.S. Department of State – Bureau of Consular Affairsthat routine visa services
are beginning phased resumption
. This is not surprising, but only time will tell whether the "current" status for the Indian EB-5 final action date sticks.
The only remaining countries with non-current final action dates are China and Vietnam, which continue to move forward. The Chinese final action date moved forward by two weeks, landing at August 8, 2015, and the Vietnamese final action date jumped forward by around two months for a date of July 22, 2017. Though these dates have been moving forward throughout the COVID-19 pandemic, consulate reopenings could also set them back, similar to the Indian final action date. The monthly Visa Bulletins for September and October 2020 may be more telling.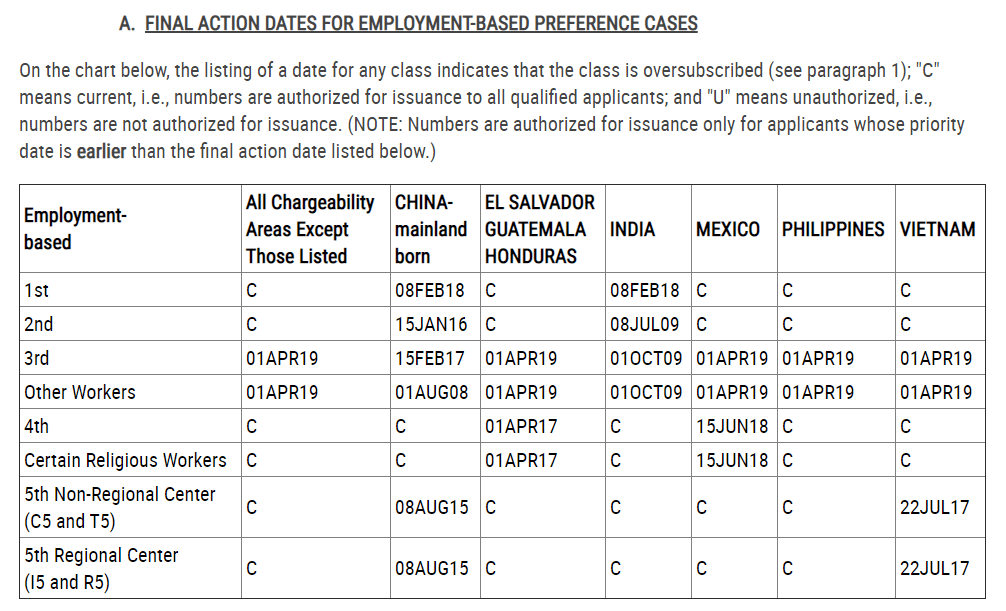 In terms of the date for filing, China remains the only country that is not current, and Chinese EB-5 investors waiting to file their visa applications must continue the wait for at least another month. The Chinese date for filing has been stalled at December 15, 2015, for several months, but as consulates reopen and visa processing resumes, these patient Chinese EB-5 investors may finally be able to move forward with their journey to an EB-5 green card.