The June 16 webinar that Charles Oppenheim, the chief of the Visa Control and Reporting Division of the U.S. Department of State, participated in with IIUSA was chock-full of valuable EB-5 insights, shedding light on important questions in the EB-5 community. Covering EB-5 processing, visa allocation, future scenarios, and more, Oppenheim revealed a lot in the one-and-a-half-hour call, during which he spent some of his time fielding questions from IIUSA panelists. Here is an outline of the most significant revelations in the call.
Consulates Still Closed; NVC Open
No one foresaw the COVID-19 pandemic, which resulted in all U.S. embassies and consulates temporarily ceasing routine visa services, thereby creating a major obstacle for many EB-5 investors. Without the opportunity to partake in visa interviews, countless overseas EB-5 investors have been left hanging, simply waiting for the consulates to reopen so they can claim their U.S. green card. Oppenheim said the U.S. Department of State is talking with local governments to reopen the consulates, but it's a delicate process, and each country has different requirements and schedules. Therefore, investors should expect each consulate to open separately.
Meanwhile, the National Visa Center (NVC) remains open. This means overseas EB-5 investors don't need to simply sit on their hands during the lockdown: They can prepare the documentation they need to apply for an EB-5 visa and work with the NVC to become documentarily qualified. The more investors do so, the more EB-5 visas United States Citizenship and Immigration Services (USCIS) will be able to issue by the end of FY2020 on September 30, 2020. Therefore, Oppenheim has asked all investors able to get documentarily qualified to do so. Since it will also expedite the EB-5 process for investors, it is highly recommended they work to get documentarily qualified.
Only a Small Portion of EB-5 Visas Issued in FY2020
More than 11,000 visas were allocated to the EB-5 program when the fiscal year began on September 30, 2019. Officials expected to issue around 2,750 each quarter, distributing the visas evenly throughout the fiscal year. However, when the COVID-19 pandemic unexpectedly struck in the second quarter, all plans flew out the window. USCIS only succeeding in granting around 4,500 EB-5 visas by June 16, which leaves a whopping 6,000+ visas to be granted before the fiscal year ends on September 30, 2020. If USCIS manages to issue this many EB-5 visas in a single quarter, it will truly be a remarkable feat.
Oppenheim believes USCIS can indeed pull this off—if the consulates reopen in time. Presently, the Immigrant Investor Program Office (IPO) is focusing on granting EB-5 visas to domestic EB-5 investors—in other words, investors who already live in the United States on a different visa and are filing an I-485 petition to change their immigration status. However, domestic investors account for only a small portion of EB-5 investors. According to statistics from FY2019, most EB-5 investors live overseas when they file their I-526 petitions. Indeed, Oppenheim supported this idea by confirming the IPO "doesn't have a lot" of I-485 petitions pending and further stating that he doesn't think there are enough domestic investors to claim all available EB-5 visas in FY2020.
EB-5 Visa Issuance Far Below Target for Chinese Investors
Chinese EB-5 investors were supposed to have a good year in FY2020, with more than 5,000 visas expected to be granted to Chinese investors. Then, the COVID-19 pandemic hit, and all previous plans were voided. A mere 1,000 EB-5 visas were issued to Chinese investors before the consulates shut down in February 2020, and four months later, in June, countless Chinese investors are still waiting to proceed. In theory, according to Oppenheim, the Visa Bulletin for July 2020 allows for 400 new domestic investors and 3,000 new overseas investors from China to receive their EB-5 visas, but in actuality, only the domestic investors can proceed due to the consulate closures. If the Chinese consulates reopen soon, the number of EB-5 visas USCIS can issue will dramatically increase, but they will be restricted by the limits of the consulates, which are likely to be overwhelmed with visa interviews.
Oppenheim also touched on recent controversy surrounding Hong Kong and its status as an independent political actor, stating that the IPO intends to treat Hong Kong as separate from Mainland China unless and until U.S. immigration law changes. This is good for investors from both jurisdictions: Hong Kong EB-5 investors will not face a backlog, and Chinese EB-5 investors will not face an increased backlog.
EB-5 Processing for Indian Investors High in FY2020
Despite the pandemic, FY2020 has been a good year for Indian EB-5 investors. Many of the 778 EB-5 visas allocated for Indians in FY2020 have already been issued despite COVID-19—as many as 550 EB-5 visas may have already gone to Indian investors. The quick movement forward of the Indian final action date is a factor, as it has allowed more investors to receive visas. The Indian final action date has moved ahead so far that it is now current, meaning all Indian investors are now eligible to receive EB-5 visas. USCIS predicted this move as far back as March 2020, and Oppenheim believes the Indian final action date will remain current for the rest of FY2020.
Vietnamese Final Action Date to Continue Forward Momentum
Oppenheim's data on Vietnam was scarce—he didn't offer any concrete figures on the number of visas issued—but he did say he expected the Vietnamese final action date to keep moving forward. Recently, it has been moving forward steadily a few weeks at a time, and Oppenheim believes the momentum will continue at this pace into the future.
Higher EB Visa Allocation Expected in FY2021
Slow immigration during FY2020 isn't entirely a bad thing for the EB-5 program, and if the consulates reopen soon enough and USCIS pumps out the visa issuances before FY2020 ends, it may even end up being a net positive. Every year, the EB-5 program has access to 7.1% of the visas allocated to all five EB programs, and that number is expected to be up in FY2021 because any unused family-based visas roll over into the EB category the following year. According to Oppenheim, the EB programs could see, at a minimum, an additional 60,000 visas to issue in FY2021, which would bring the total above 200,000.
Oppenheim Believes Indian EB-5 Investors Won't Face Retrogression
The astonishing advancement of the Indian final action date has surprised the EB-5 industry, which largely never could have expected such a development in 2019. The excitement has been accompanied by fears that Indian investors will face major visa retrogression when the consulates resume services and the number of Indian EB-5 investors eligible to claim visas increases, but according to Oppenheim, Indians aren't likely to face retrogression. He emphasized the final action date movements as "measured," claiming USCIS has been working to ensure the Indian final action date won't regress. He said he believes Indian EB-5 investors who begin their EB-5 process today won't have to wait as long as officials believed in October 2019. These comments suggest there may be a lot of Indian investors already documentarily qualified and ready to claim their EB-5 visa once the consulates reopen.
What would be even more shocking than the Indian final action date becoming current would be all final action dates becoming current, which, according to Oppenheim, is possible under strict conditions. If it happens, it'll be at the beginning of FY2021, with the condition that the consulates have not reopened by then. Additionally, there will have to be a large enough number of domestic investors to justify moving the final action date forward. If this really does happen, it will only be for a brief period.
EB-5 Processing Productivity Up in FY2020
EB-5 processing rarely stays steady. In FY2018, it hit record highs, with the IPO managing to significantly reduce the growing backlogs. In FY2019, figures reversed—adjudications sank, and the backlogs regained strength. The differences are largely attributed to the change in leadership, with new chief Sarah Kendall pouring more resources into integrity and less into processing. Kendall is still the head of the IPO in FY2020, but Oppenheim claimed in the call that the IPO has been processing I-526 petitions rapidly. He highlighted the high numbers of Chinese EB-5 investors who have received adjudications in FY2020, although future figures may be lower for Chinese investors as the effects of the new visa availability approach kick in.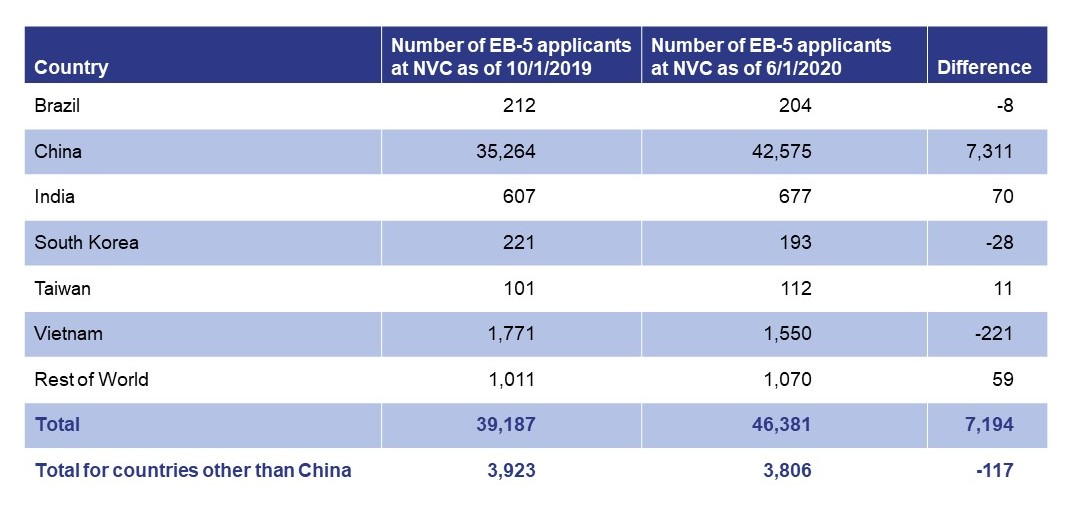 The data on the number of EB-5 investors at the NVC seems to back up Oppenheim's claims of high volumes of Chinese processing: Significantly more Chinese EB-5 applicants were at the NVC as of June 1, 2020, than as of October 1, 2019. Other countries haven't seen the same sort of increase, with some witnessing small upticks and others experiencing downturns. However, these figures don't prove higher processing volumes: There could be more Chinese investors at the NVC simply because the forward movement of the Chinese date for filing has made more Chinese investors eligible to work with the NVC. Furthermore, when one accounts for the fact that some investors need a long time to get documentarily qualified and others don't work with the NVC at all because they are domestic investors, it becomes clear that NVC data is nothing more than a rough indicator of I-526 petition processing.