The U.S. Department of State has released its Report of the Visa Office 2019, which provides, among other visa-related statistics, an overview of the number of EB-5 visas issued throughout FY2019. The EB-5 visa statistics are presented across two tables: Table V Part 3 (visas issued to individuals already in the United States) and Table VI Part IV (visas issued to individuals abroad). The statistics break down the countries of origin of EB-5 investors who have received green cards for conditional permanent residence in FY2019.
The information presented in these statistics is not necessarily surprising because it reflects the EB-5 investment demand from a few years ago. Since I-526 processing times for most countries are two years, these statistics represent people who filed their petitions around FY2017. For China, which suffers from a five-year backlog, these green card issuances represent Chinese EB-5 investors who submitted their I-526 petitions around FY2013. If United States Citizenship and Immigration Services (USCIS) published statistics about the countries of origin of I-526 petitions received in FY2019, we could gain a clearer picture of the current EB-5 demand. Until then, we will have to make do with data representing investors already halfway through the EB-5 process. We can also gain further insights from the EB-5 program processing statistics over the past decade.
The EB-5 Numerical Limit
There is a numerical limit on the number of EB-5 green card visas issued each year, but it is not a set number. Instead, it's a percentage (7.1%) that changes annually based on how many EB visas are issued that year. Individual countries are then given a per-country limit on the number of EB-5 visas their nationals can receive each year—7% of the EB-5 visa cap, regardless of the country's population or EB-5 demand. In FY2019, the numerical limit of EB visas was 141,918 visas, meaning the EB-5 visa numerical limit was 10,076. This made FY2019's per-country numerical limit for EB-5 green card visas 705. These figures are targets, not hard, fast rules: Only 9,478 of the 10,076 total available EB-5 visas were issued in FY2019, but slightly more than 705 visas were issued to each India and Vietnam (the countries with the second- and third-highest EB-5 demand). The figures that determine the annual EB numerical limits are based on numerous factors and not EB visa demand, so the number of I-526 petitions pending at the end of FY2019 was still high.
EB-5 Visas Issued to Investors Abroad vs. Already in the US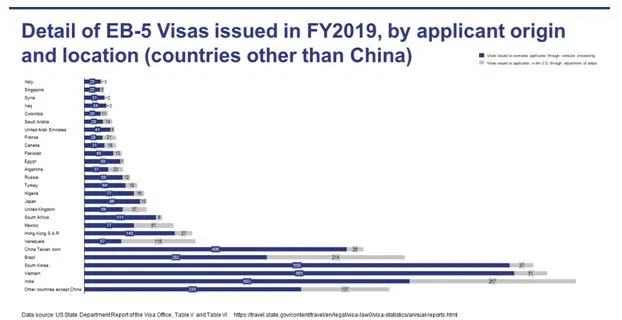 The US is, by a huge margin, the
most popular country
for immigrants worldwide, which means it is already home to millions of immigrants living on temporary visas. For those with the means, the EB-5 visa program is a popular way to switch from a temporary work or study visa to a permanent green card. According to the Report of the Visa Office 2019, almost half of the South Americans (and nearly two-thirds of the Venezuelans) who received an EB-5 visa in FY2019 received it while already living in the US. Approximately one-third of European and Indian applicants were similarly already living in the US when they received their EB-5 green cards. Chinese applicants, who by far make up the largest EB-5 demographic, primarily applied from China, with only 10% already living in the US on other visas, but that's still 433 people—more applicants than most countries had in total. Africans similarly mostly applied from outside the United States, although the total number of EB-5 visas granted to African nationals was only 334. Still, that's a record for the continent.
Visas Granted to Investors vs. Family Members
It would be easy enough to imagine that the roughly 10,000 EB-5 visas granted per year are representative of 10,000 investments in the U.S. economy that create at least 100,000 jobs. However, the program would not be popular if spouses and children were not also granted visas, especially seeing as securing a better future for one's children—including easier and cheaper admission to U.S. colleges and universities—is one of the major reasons for participating in the EB-5 visa program. Therefore, visas issued to family members take up a significant part of the limited 10,000 overall visas. The DHS Yearbook of Immigration Statistics reveals that only around one-third of EB-5 visas issued actually went to EB-5 investors, with the largest percentage (42%) going to investors' children and an additional 23% being granted to spouses. In FY2018, 3,363 investors received an EB-5 visa, representing 3,363 investments in the US and at least 33,630 new jobs—a far cry from the intended figures.
EB-5 Visas Granted by Country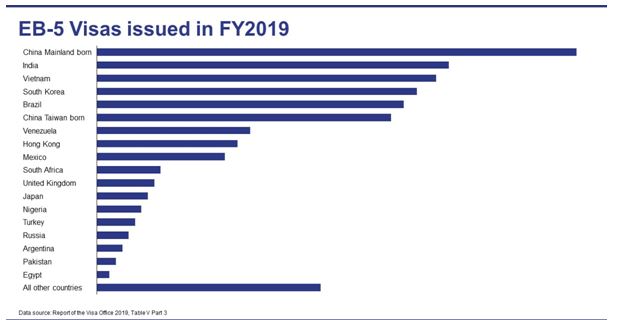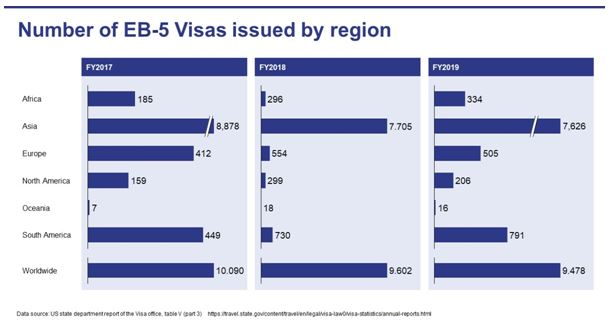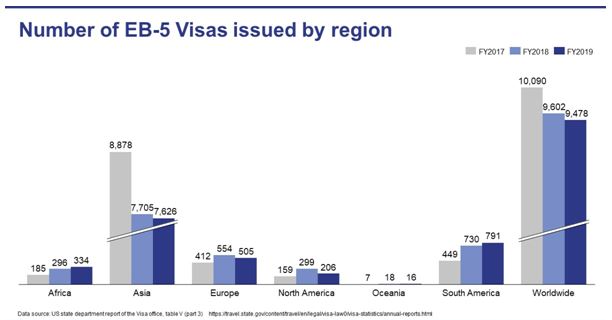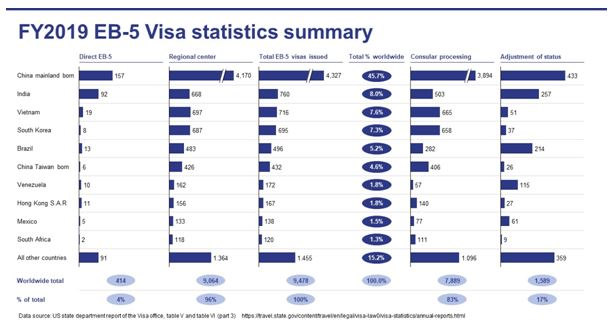 The FY2019 statistics for EB-5 visas reveal increasing diversification in the countries of origin of EB-5 investors. China, which has long dominated the program, continues to record the highest numbers of EB-5 investors, but the margin is falling, with India, Vietnam, South Korea, Brazil, and Taiwan starting to catch up. The number of visas pending for Chinese nationals has decreased from FY2017's 7,500 to 4,300 in FY2019, but at the same time, USCIS's new visa-availability processing approach, which aims to fill per-country visa caps for I-526 petitions, will deprioritize the oversaturated Chinese market and could serve to push this number back up.
In the country statistics, a few countries stand out—it would be interesting to know more about the four North Koreans who managed to get involved in EB-5 projects from within their extremely isolated nation. There are also numerous countries from which only a single investor was granted an EB-5 visa in FY2019, including Croatia, Suriname, New Zealand, Kazakhstan, Burundi, and Israel, among others.
The detailed statistics also make it clear that significantly more investors worldwide invested through regional centers than directly in EB-5 projects. Many countries, including Japan, Nigeria, Turkey, Argentina, and Egypt, did not have a single investor going the direct route, even though these countries featured from 59 to 96 overall investors each. This is likely attributable to the benefits of regional center investment, which include the ability to count indirect and induced jobs toward the EB-5 job creation requirement.
A Reminder to Work With the NVC
The approval of an EB-5 investor's I-526 petition only grants the investor conditional permanent residency in the US. Those with I-526 approval must then work with the National Visa Center (NVC) to become documentarily qualified, which involves filling out specific forms and submitting necessary official documents. After an investor is considered documentarily qualified, he or she is next in line for a visa appointment and that much closer to unconditional permanent residency in the United States. While the number of Chinese I-526 applicants is high, there is an overwhelming lack of Chinese investors with I-526 approval who are eligible for visa interviews, so we stress the importance of working with the NVC in a timely manner to avoid delays in your EB-5 immigration process.