Indian EB-5 investors rejoice: In the July 2020 Visa Bulletin, the Indian EB-5 final action date has finally become current, in line with United States Citizenship and Immigration Services (USCIS) predictions that it would become current by summer 2020. India has been one of three countries subject to EB-5 visa backlogs, resulting in long wait times for investors to obtain their EB-5 green cards, so the rapid advancement of the Indian final action date in 2020 has been a sign of hope for many. There's just one problem: This new status may be short-lived.
According to USCIS official Charles Oppenheim, the Indian EB-5 final action date is expected to remain current for the duration of FY2020 – in other words, until September 30, 2020. What will happen to it in FY2021 is less certain. Fears of visa retrogression for Indian EB-5 investors are high, and the present "current" status may only be attributable to the COVID-19 pandemic and the nature of EB-5 visa processing.
Although many EB-5 investors assume EB-5 visa issuances follow a sequential order based on priority date, the truth is far more complicated. In reality, since all investors' situations are different, not all are available to claim their visas at the same time, resulting in investors with later priority dates sometimes receiving their visas earlier than those with earlier priority dates. The final action date only pays attention to the EB-5 investors eligible to claim, so when large numbers of investors who had previously been ineligible to claim become able to, the final action date moves backward in what is called visa retrogression.
Countries around the world have shut down public life due to the COVID-19 pandemic, and this has had a profound effect on some EB-5 investors. All U.S. embassies and consulates temporarily stopped offering routine visa services, including visa appointments and interviews, rendering overseas EB-5 investors unable to claim their visas. However, domestic EB-5 investors—investors who already live in the United States under a different visa—are still eligible to claim their EB-5 green card by filing an I-485 petition. Since statistics from FY2019 indicate that domestic EB-5 investors only make up a minority of all investors, the small pool of eligible applicants has most likely driven the rapid advancement of the Indian final action date. When the U.S. embassy and consulates in India reopen, Indian investors may see a major retrogression.
July 2020 Visa Bulletin Chart A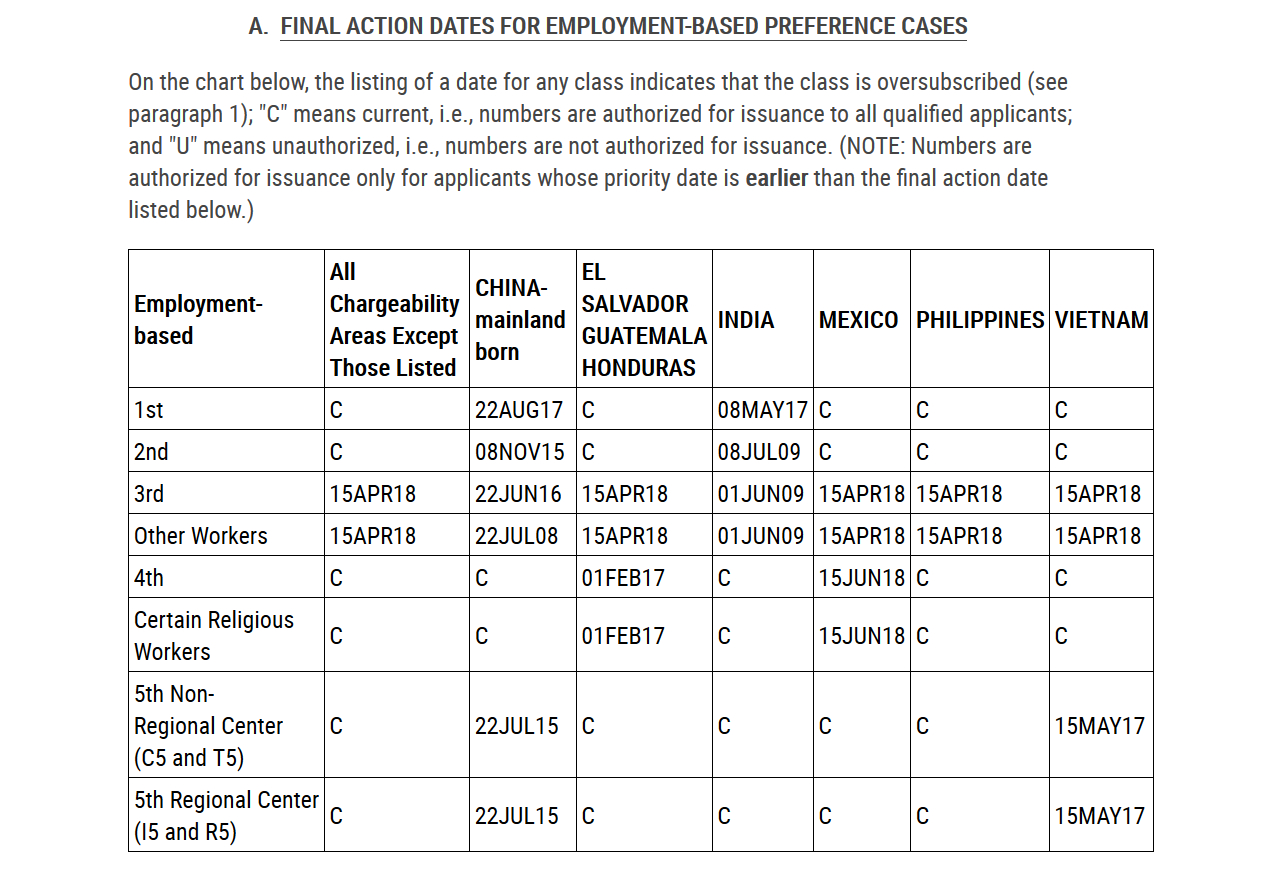 China and Vietnam, the other two countries with EB-5 backlogs, also moved ahead in the July 2020 Visa Bulletin, but the progression is dramatically lower than for India. The Chinese final action date moved ahead by one week, now resting at July 22, 2015, while the Vietnamese date jumped ahead three weeks, landing at May 15, 2017. The Indian final action date, however, zipped ahead from January 1, 2020, to "current"—a move of seven months. How long Indian EB-5 investors will avoid a backlog, however, is unclear.
July 2020 Visa Bulletin Chart B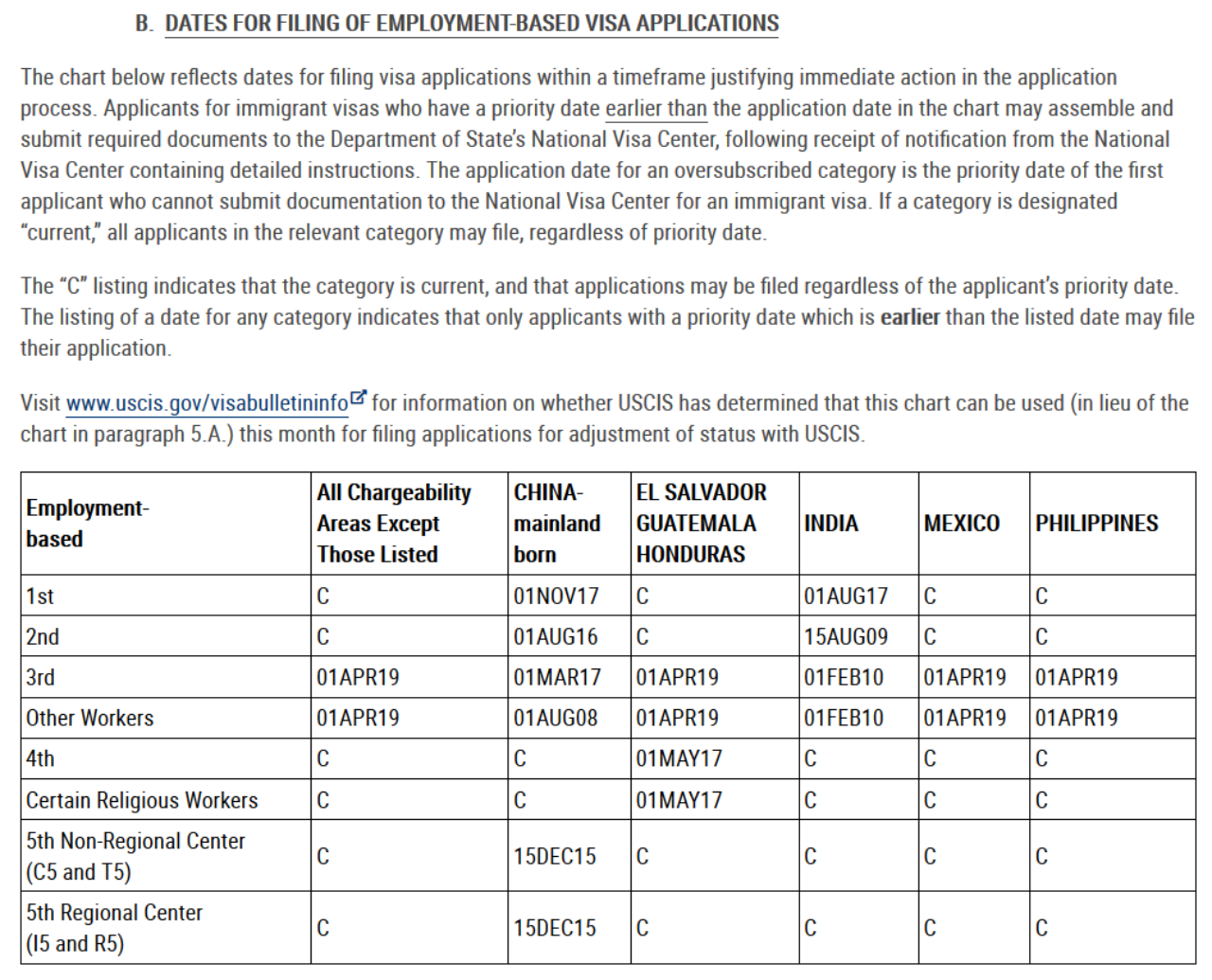 The only EB-5 investors who need to pay attention to the Chart B dates for filing are those from China. All other countries, including India and Vietnam, have a "current" date, but the Chinese date for filing has stayed at December 15, 2015, where it has rested for the last several months. The lack of movement in the Chinese date for filing is likely a result of U.S. consulates being closed, which means Chinese investors are unable to file their visa applications even if they would otherwise be eligible to.