United States Citizenship and Immigration Services (USCIS) has published the I-526 petition processing data for the first quarter of FY2020, which covers October 1 to December 31, 2019. The quarterly report indicates that 383 I-526 petitions were approved and 72 were denied, for a record low of 455 adjudicated petitions. There are more than 17,000 petitions still awaiting a decision. Based on this data, it appears that FY2019's low adjudication numbers have persisted in FY2020.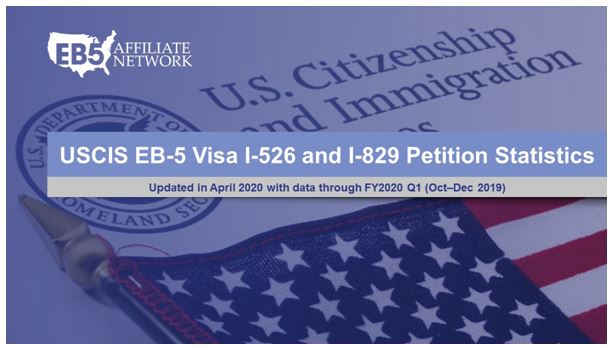 The decline in the I-526 petition adjudication rate began when Sarah Kendall took over as chief of the Immigrant Investor Program Office (IPO) in FY2019. In a USCIS public engagement on March 13, Kendall attributed the low processing volumes to the IPO's increased focus on security and integrity, which increased the number of hours spent on each I-526 petition. This, however, does entirely explain how with a staff of over 200 and adjudications averaging 8.5 hours each, the IPO only processed 455 I-526 petitions in the first quarter of FY2020. As the demand for EB-5 visas continues to grow, and I-526 petitions with it, it will be essential for the IPO to increase its rate of adjudications.
Increase in I-526 Petitions Filings
The quarterly report also shows that there were 4,264 I-526 petitions filed in the first quarter of FY2020. To put that in perspective, there were only 4,194 petitions filed in the entirety of FY2019. But this sharp increase in filed petitions was not unexpected given the EB-5 Modernization Rule, which went into effect on November 21, 2019. Under the new rule, the minimum required investment amounts increased significantly, from $500,000 to $900,000 for EB-5 projects in a targeted employment area (TEA) and from $1 million to $1.8 million for projects in a non-TEA.

Decrease in I-526 Processing Times
What is somewhat surprising, given the low I-526 adjudication numbers, is the reported decline in average I-526 processing times. USCIS reported an average historical processing time of 12.6 months for I-526 petitions in the first quarter of FY2020. Whether this decrease in average processing time will continue throughout FY2020 remains to be seen.