FY2020 was a devastating year for the EB-5 Immigrant Investor Program. The COVID-19 pandemic left thousands of investors unable to receive their EB-5 visas, United States Citizenship and Immigration Services (USCIS) experienced financial turmoil, and the new visa availability approach increased the unreasonably long wait times for those from backlogged countries. Needless to say, FY2020 was not the year that EB-5 investors were hoping for.
Making matters even worse, I-526 petition processing volumes were extremely low throughout FY2020. This was especially disappointing because of the small number of I-526 petitions filed in FY2020. USCIS could have used the year of low demand to prioritize I-526 adjudication and reduce the large EB-5 backlogs in countries like China and Vietnam. Unfortunately, the data from Q4 FY2020 shows that the agency did not take advantage of this opportune time. The data for FY2020 Q4 is as follows:
I-526 Petitions
Received: 53
Approved: 904
Denied: 236
Pending: 15,063
I-829 Petitions
Received: 740
Approved: 732
Denied: 62
Pending: 10,304
I-924 Petitions
Received: Unreported, but estimated to be 129
Approved: 45
Denied: 45
Pending: 163
Form I-526 Data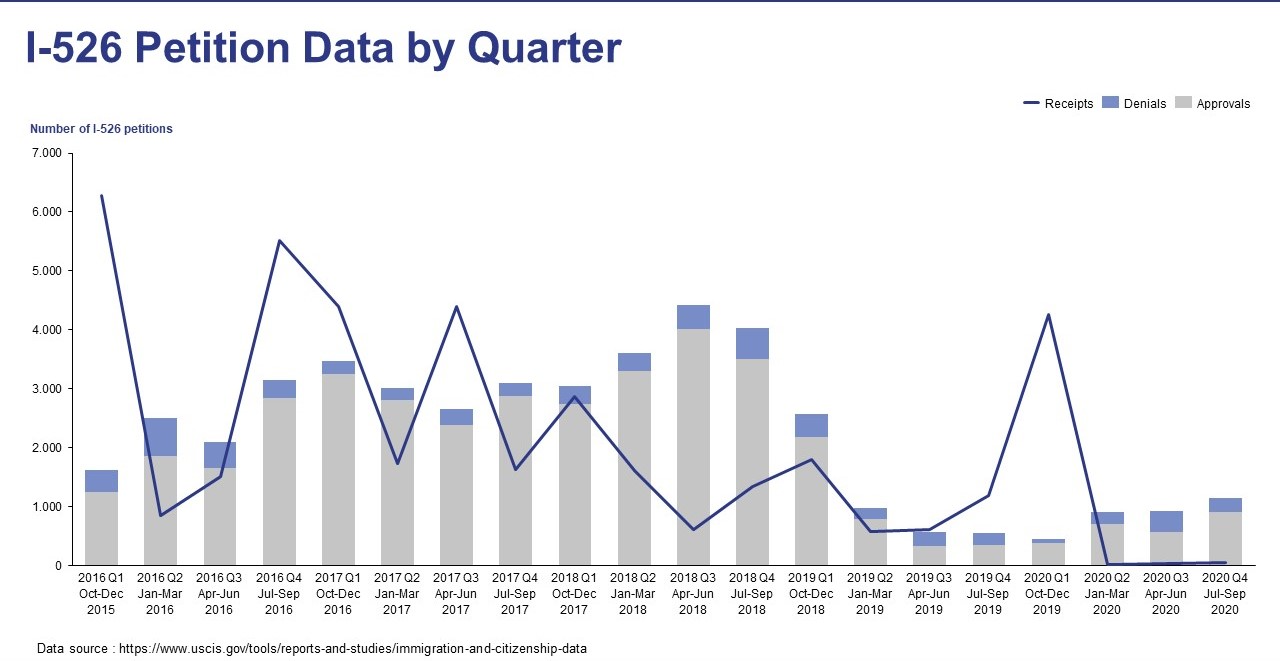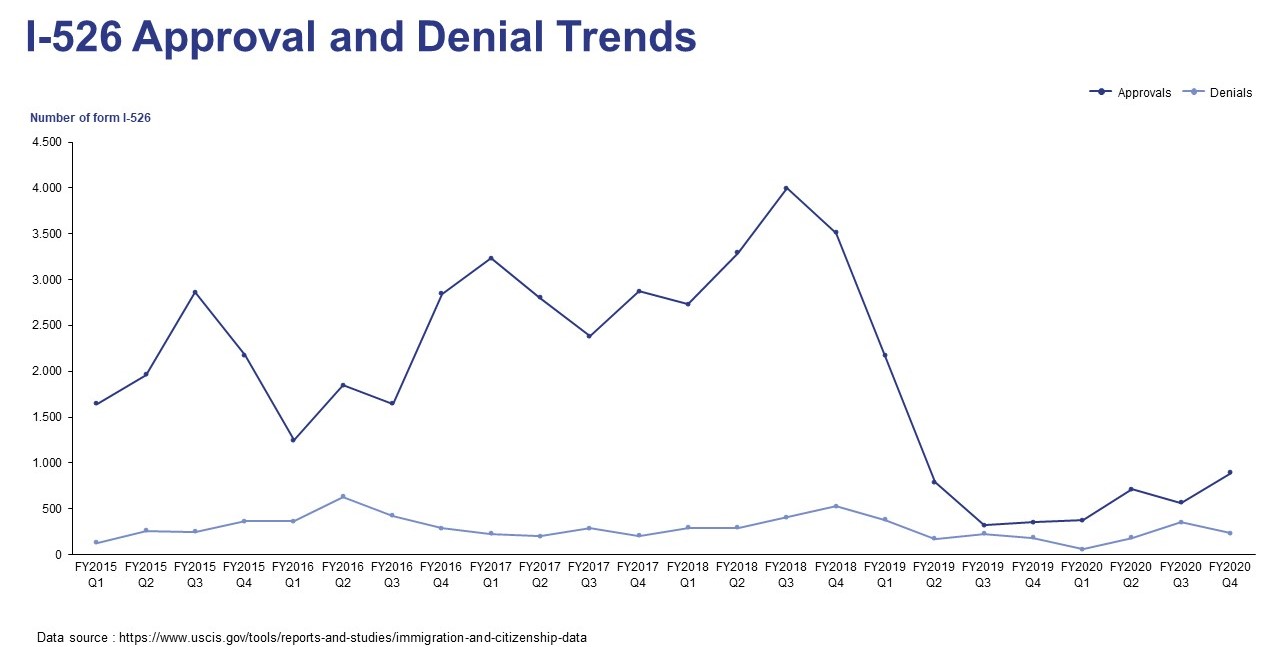 The EB-5 industry has seen I-526 petition processing steadily decrease ever since Sarah Kendall took over as chief of the Immigrant Investor Program Office (IPO) in 2019. Luckily, I-526 processing volume improved slightly from Q3 to Q4 in FY2020, with FY2020 surpassing the adjudication rates from the last three quarters of FY2019. Unfortunately, despite the lower processing numbers under Kendall's leadership, the denial rates have remained steady. This means that the agency is being much stricter in their I-526 approvals, leading to a much lower approval rate than there was under previous leadership.
Form I-829 Data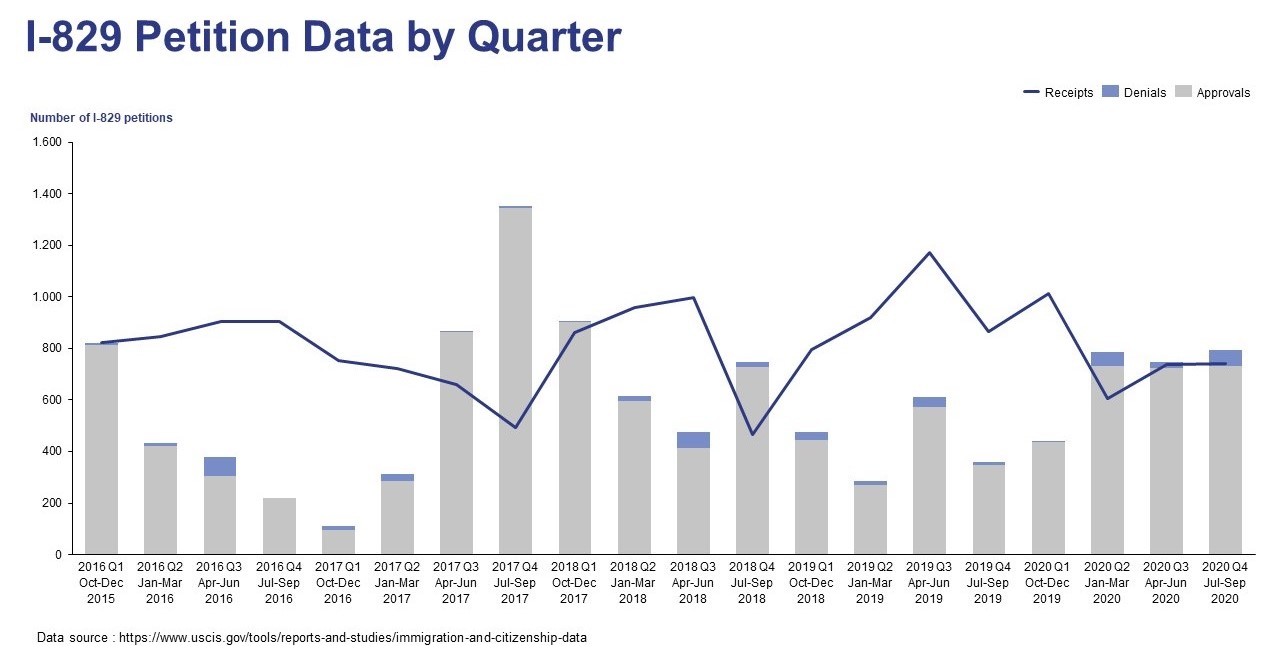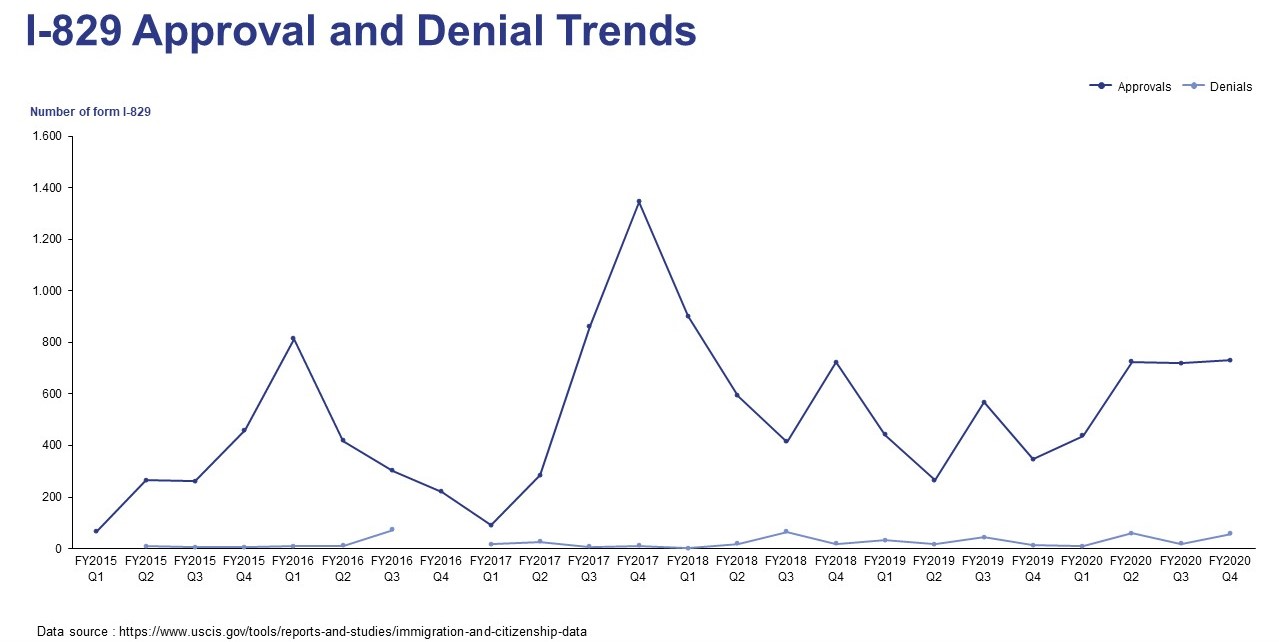 The data makes it clear that I-829 petitions were prioritized over I-526 petitions, with I-829 processing for FY2020 only being topped by FY2017. Kendall has made it clear that she will focus on adjudicating I-829 petitions. However, while I-829 adjudication rates are high, so is the denial rate for I-829 petitions. In fact, the denial rate for I-829 petitions is higher than most historical data for I-829 petition denial.
Petition Receipts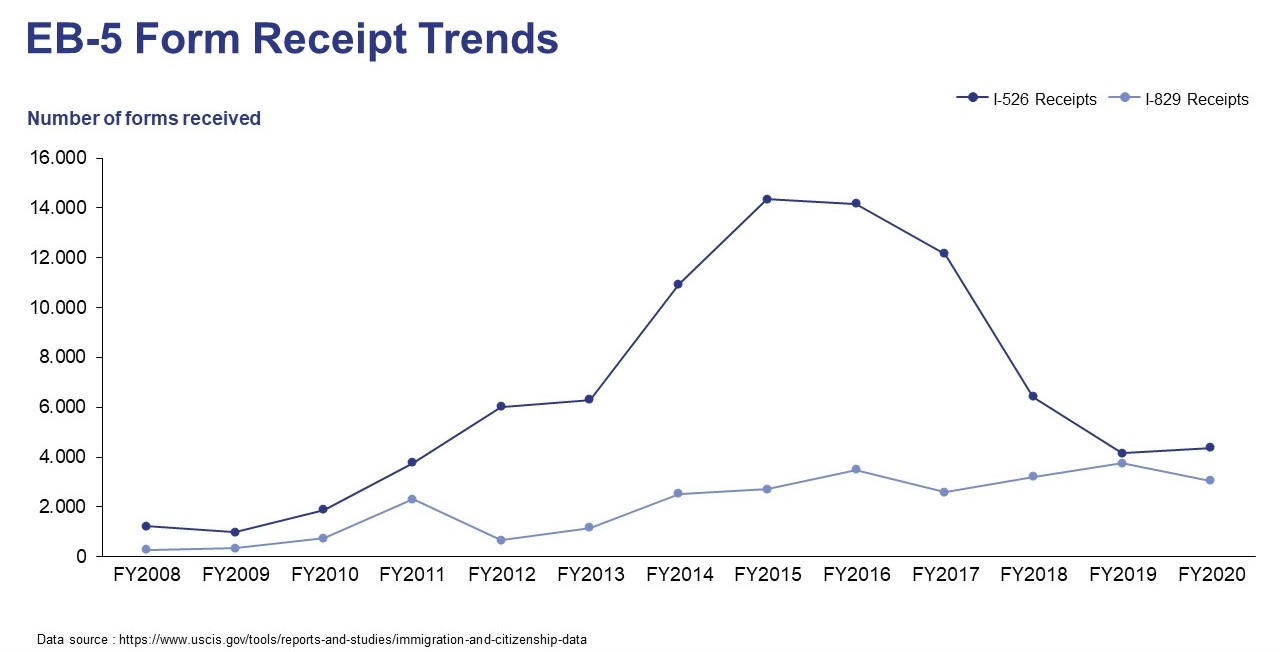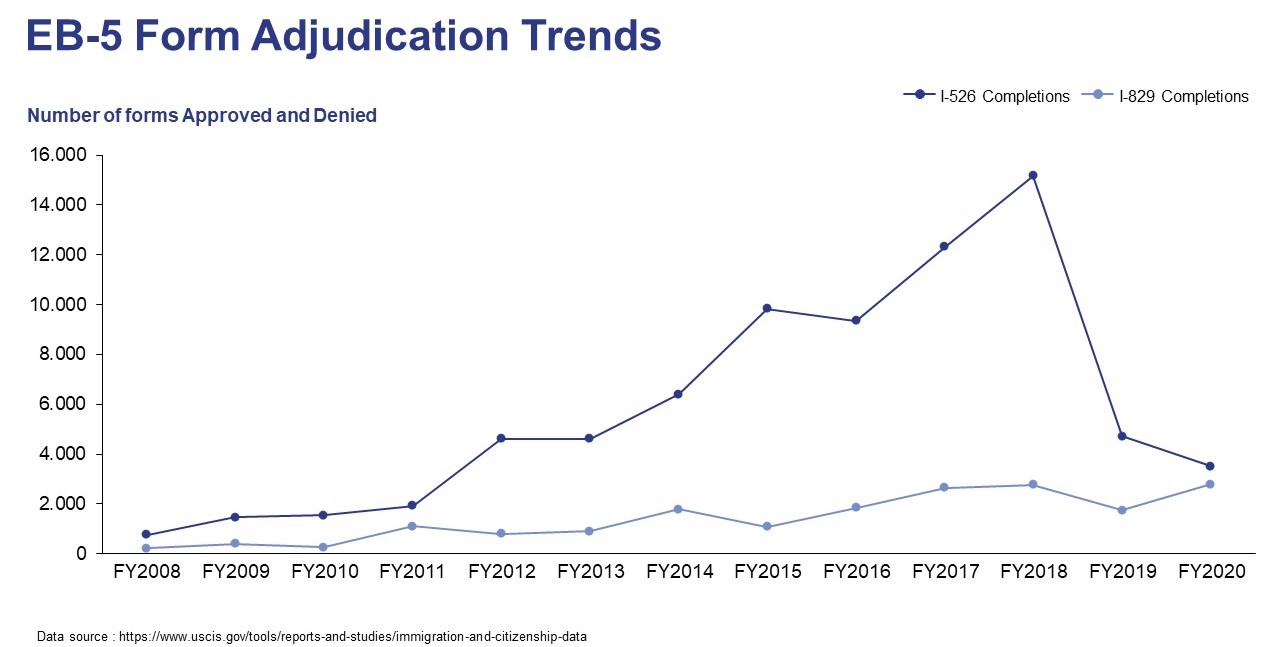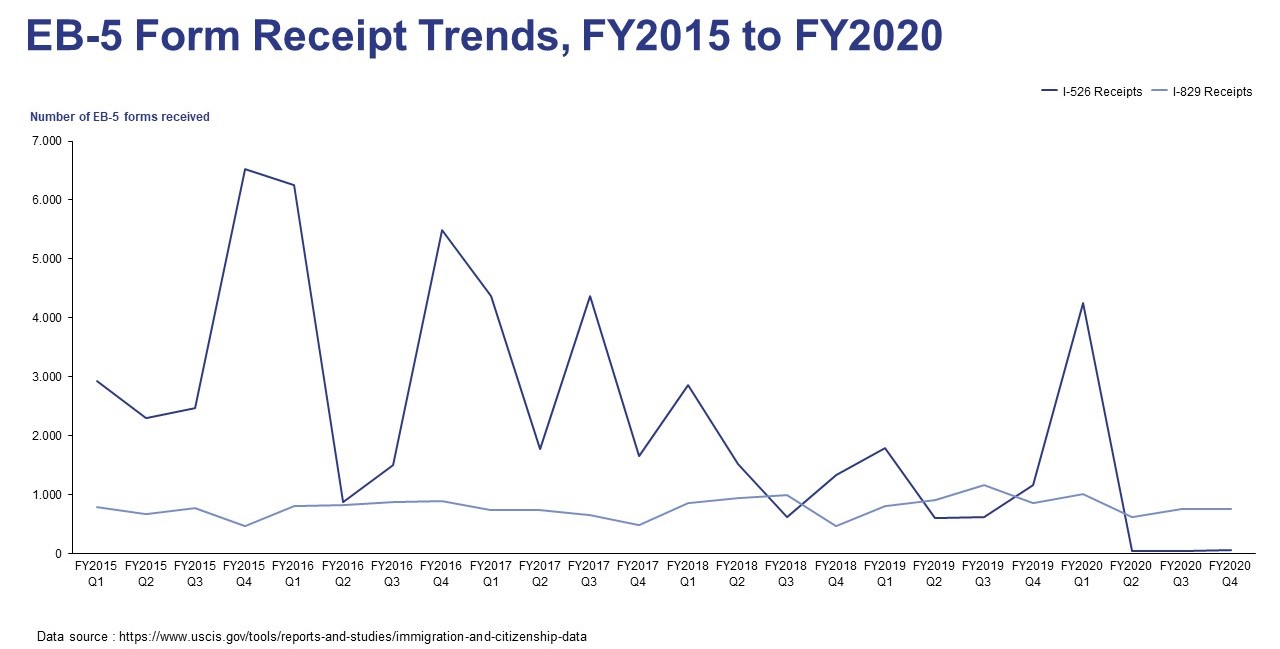 Because I-829 petitions are filed at the end of an EB-5 investor's two-year period of conditional permanent residence, it makes sense that I-829 filings in FY2020 Q4 remained steady. Despite the negative effects of the COVID-19 pandemic, investors still must file to have the conditions removed from their permanent resident status within the last 90 days of their investment period. This explains the steady number of I-829 receipts in the last quarter of FY2020.
However, I-526 petition receipts were severely affected by the COVID-19 pandemic. The last three quarters of FY2020 experienced the lowest number of I-526 petition filings ever seen, which was due to the pandemic-related shutdowns, temporary travel bans, and excessive EB-5 backlogs. But the first quarter of FY2020 saw over 4,000 I-526 petitions filed. This was likely due to the new Modernization Rule that took effect in November 2019. This new rule doubled the minimum investment amount required for an EB5 investment. Because EB-5 investors knew this change was approaching, thousands rushed to file their I-526 petition to begin their investment before the minimum investment amount increased.
Despite the negative effects of the pandemic and the low EB-5 interest in FY2020, there is still an upside for those involved with or planning an EB-5 investment. The low receipt figures for I-526 petitions give USCIS a chance to significantly reduce the EB-5 backlogs. If they begin to prioritize I-526 processing, they could adjudicate a large number of petitions before EB-5 interest rises and new filings add to the EB-5 queue.