Around the world, foreign nationals are itching for the chance to immigrate to the United States, long known as the land of freedom. Immigrating to the United States is no easy feat, so when foreign investors were presented with the opportunity to obtain U.S. green cards for themselves, their spouse, and their unmarried children below the age of 21 in exchange for a passive investment in a qualifying U.S. new commercial enterprise (NCEs), many said, "Yes, please!" This invaluable opportunity is offered by the EB-5 Immigrant Investor Program, which, since its inception in 1990, has contributed billions in foreign EB-5 investment capital to the U.S. economy and spurred the creation of hundreds of thousands of new employment opportunities for workers in the United States.
It's easy to see why the EB-5 program is so popular, but that very popularity has also been the source of numerous problems and inconveniences. With EB-5 demand outpacing EB-5 visa supplies, backlogs began growing in particularly enthusiastic nations, such as China and Vietnam, leaving investors waiting simply because of their nationality, even if they satisfied all other EB5 investment requirements. Part of the reason the backlogs have grown to such lengths are the country-based restrictions in visa issuances at United States Citizenship and Immigration Services (USCIS). Intended to ensure more fairness in visa distribution across countries, the country caps have failed to take into account differences in population size and immigration demand, which has paved the way for seemingly insurmountable backlogs for certain EB-5 investors. As of December 2020, China is the most affected nation, with Hong Kong EB-5 investors having joined the ranks in July 2020 after Beijing introduced a new security law in the special administrative region.
Someone from a non-backlogged country who makes an EB-5 investment may apply for their EB-5 visa as soon as their I-526 petition is approved, but those from backlogged countries are forced to endure a longer wait to begin their new life in the United States. Information regarding who may receive a U.S. green card in a given month is revealed in USCIS's monthly Visa Bulletins, which investors from backlogged nations should check periodically as they await their turn. The final action dates and dates for filing listed in the Visa Bulletins are related to an investor's priority date, which is set as the date by which USCIS received the investor's I-526 petition.
Almost nothing has been normal in 2020, and the same can be said about the EB-5 Visa Bulletin figures. The COVID-19 pandemic, which brought the entire world to a standstill, has also impacted the EB-5 program in dramatic ways, disrupting the journeys of EB-5 investors and confining them to indefinite waits. For some EB-5 investors, the problem was the temporary closure of U.S. embassies and consulates, which rendered it impossible to undergo a visa interview and subsequently receive a U.S. green card. For others, it was the slow progression of the final action dates, with the entire EB-5 landscape having been turned on its head by COVID-19. Others yet experienced positive effects of the pandemic, such as Indian EB-5 investors, who saw their backlog finally clear up entirely in July 2020, still yet to return as of December 2020.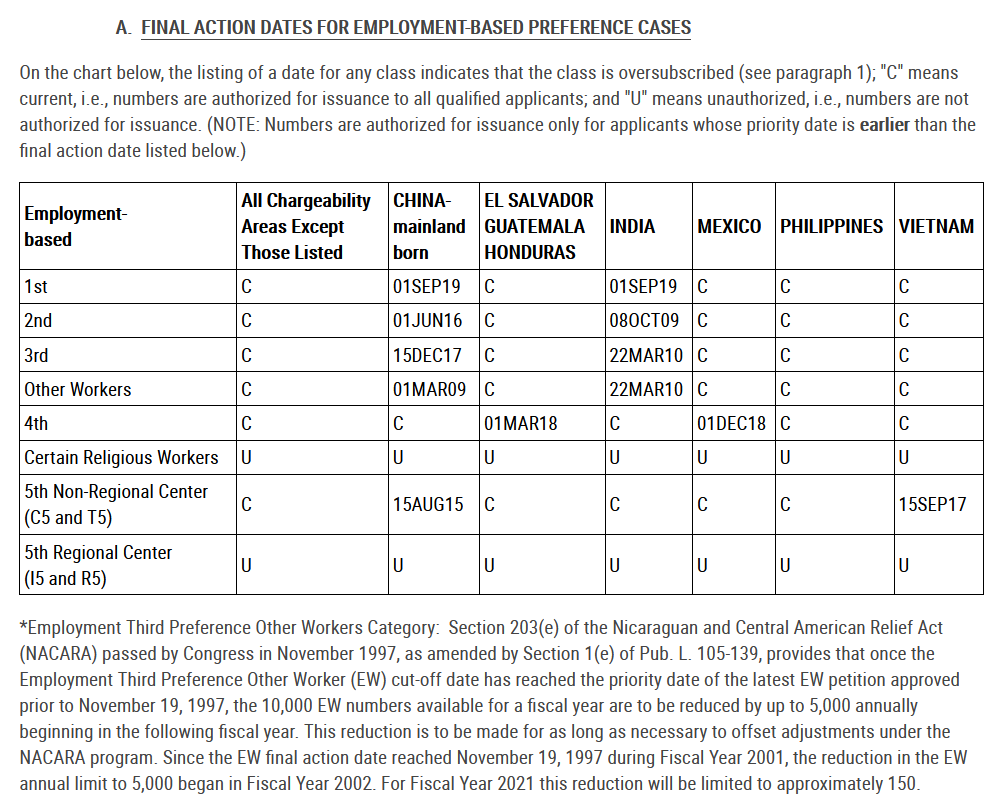 January 2021's Visa Bulletin brings nothing but bad news for Chinese EB5 investment participants. The final action date—August 15, 2015—hasn't budged since August 2020, and even then, the momentum was minimal, amounting to a single week. This has made the last half of 2020 particularly slow for Chinese investors, even though USCIS has access to an astonishingly high number of EB-5 visas in FY2021. One benefit of the pandemic has been the lack of family-based visas issued in FY2020, which were rolled over to the EB programs upon the onset of FY2021 in October 2020. However, despite this unique opportunity to cut down the massive Chinese EB-5 backlog, USCIS continues to inch forward at a snail's pace.
The situation for Vietnamese investors isn't as dire as that for Chinese investors, but it's certainly not anything rosy. Vietnamese nationals with active EB-5 investments should expect to continue their wait for a while yet, given the slow advancement of their final action date. In the January 2021 Visa Bulletin, it stands at September 15, 2017, two weeks ahead of what it was in the December 2020 bulletin. The hope that increased services at U.S. consulates and embassies will trigger forward momentum in 2021 remains.
China and Vietnam are the only countries in the January 2021 Visa Bulletin without a current final action date—the Cs in all other columns indicate the "current" status of all other countries. The Us in the regional center row simply indicate that the EB-5 Regional Center Program had not been reauthorized at the time the Visa Bulletin was created. It has since been reauthorized, with the new validity period stretching six months to June 30, 2021. Thus, those who have made their EB5 investment through a regional center should simply assume their final action date is the same as that of their compatriots in the direct investment category.
Chinese investors have the worst final action date of all EB-5 investors, and that's not all: they're also subject to a date for filing. That means Chinese investors must wait until their date for filing becomes current before they can even submit their application for a U.S. green card following I-526 approval. In the January 2021 Visa Bulletin, the Chinese date for filing is December 15, 2015, just as it has been since March 2020. The entire EB-5 industry holds its breath as we move into FY2021, hoping the Chinese date for filing will move ahead before it achieves an entire year of no movement.