Each month the State Department publishes a Visa Bulletin that includes important dates for those involved in an employment-based immigration program. After the delayed release of the November 2020 Visa Bulletin, the State Department made sure to publish the December bulletin in a timely manner. Unfortunately, the December Visa Bulletin was not encouraging to participants in the EB-5 program from backlogged countries.
Chart A: Final Action Dates Saw Little Progress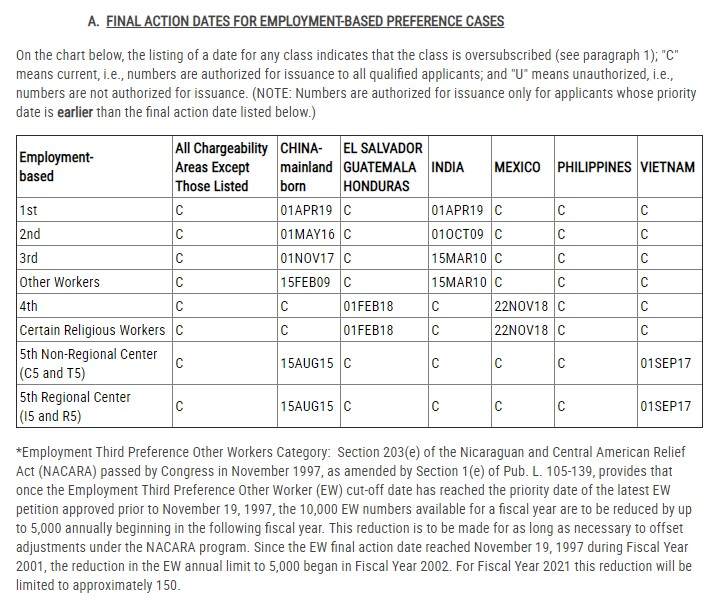 Due to the effects of the COVID-19 pandemic, there will be a substantial increase in EB-5 visas in FY2021, which should help with the large backlogs in countries such as China and Vietnam. However, the December 2020 bulletin is the third monthly Visa Bulletin of FY2021, and the final action dates have still yet to move as expected. The final action date for Chinese EB-5 investors did not increase, remaining at August 15, 2015. The final action date for Vietnam moved forward by only two weeks, which is disappointing for anyone from Vietnam who is involved with an EB-5 investment.
Chart B: Dates for Filing EB-5 Applications Stand Static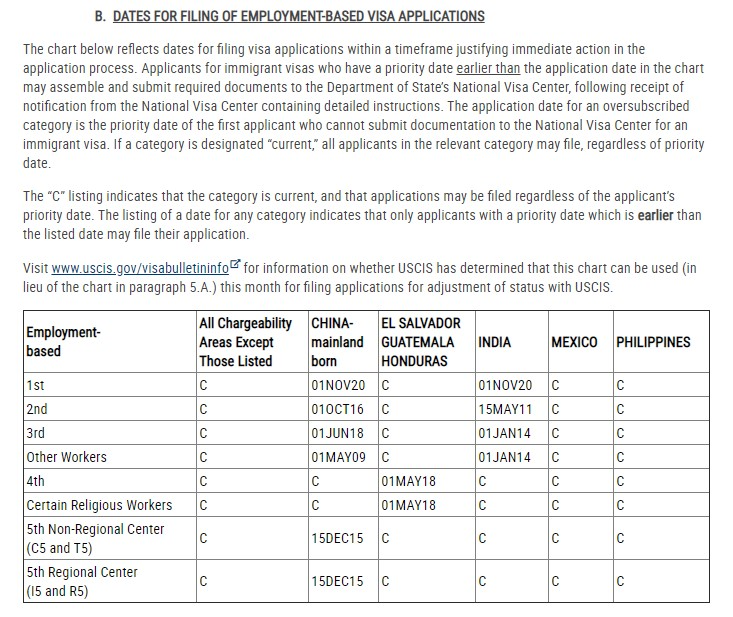 Just like the final action dates, the dates for filing for Chinese EB-5 investors remained static. This date is used to determine which foreign-based EB-5 investors can submit visa applications to the National Visa Center (NVC). Unfortunately for Chinese investors, the date has remained still at December 15, 2015.
EB-5 Regional Center Program Approaching Expiration Date
In other EB-5 news, the EB-5 Regional Center Program is set to expire on December 11, 2020 if Congress does not reauthorize the program before the deadline. If the program does expire, immigration visas will no longer be available through regional centers beginning at midnight on December 11, 2020. Any applicant involved with an EB5 investment through a regional center must have received conditional permanent resident status and been admitted to the U.S. by the deadline to continue with their EB-5 process. However, it is important to note that it is unlikely that the EB-5 Regional Center Program will expire without reauthorization or a temporary extension. All direct EB-5 investments will continue unaffected.
Despite the anticipation of the extra available visas for FY2021, there is still no evidence of any extra visas being issued at this time. United States Citizenship and Immigration Services (USCIS) does not seem to be processing applications any quicker or issuing extra visas. Hopefully USCIS will increase productivity as the new calendar year begins and EB-5 investors will begin to see the benefits of the increase in available visas for the EB-5 program.