The Visa Bulletin for May 2020 is now available for viewing, and the most notable information it offers is the massive jump of the Indian EB-5 final action date. Indian EB-5 investors may be eligible to receive their visas far sooner than expected thanks to the recent strides the Indian final action date has been making. This time, the date leaped ahead by an astounding nine months.
Currently, backlogs only affect three countries—China, India, and Vietnam—but India may not suffer from backlogs much longer. According to United States Citizenship and Immigration Services (USCIS), India's final action date will probably be current by summer 2020 and is not expected to fall back down. So far, USCIS's prediction seems to be coming true.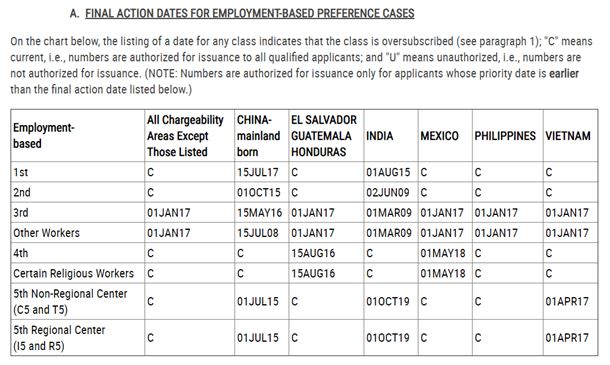 The Indian final action date was January 1, 2019, in the Visa Bulletin from April 2020. Moving up nine months in the May bulletin, it currently sits at October 1, 2019. If this trend continues, the Indian final action date could be current as soon as June 2020.
Additionally, while China and Vietnam are not moving ahead as quickly, they are still advancing. In the May 2020 bulletin, China moved up by one and a half months, and Vietnam advanced by two months.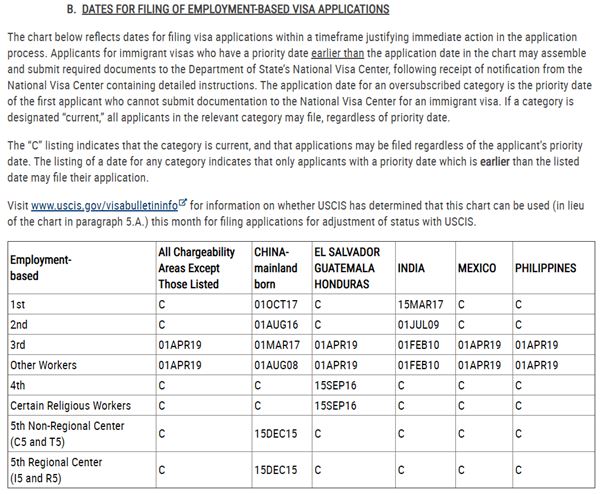 Among EB-5 investors, only those from China need to pay attention to the Dates for Filing chart, as all other countries are current. In May 2020, China's date for filing has remained at December 15, 2015, moving neither forward nor backward. Currently, the EB-5 program is largely on pause for Chinese investors, as the United States has closed all its embassies and consulates in China and the rest of the world to help quash the spread of COVID-19.
New I-526 Processing Approach at USCIS
On March 31, 2020, USCIS introduced its new visa availability processing approach for I-526 petitions. The visa availability approach stipulates that petitions be processed based not on the order they were received but rather on whether there are immediately available EB-5 visas for the applicant's country. Since USCIS has decided to use the Chart B dates for filing for processing decisions, only Chinese EB-5 investors are negatively affected by this change.
Extension of USCIS Office Closures
To help prevent the spread of COVID-19 and keep its employees safe, USCIS shut closed its offices to the public in March 2020, originally aiming to open again on May 4. It has since decided to extend the closures until June 4. However, while the offices are closed to the public, internal work continues, with USCIS working hard to adjudicate EB-5 petitions. While EB-5 investors who live abroad will likely face delays in their EB-5 process due to the worldwide closure of U.S. embassies and consulates, those who already reside in the United States may receive their visas faster, since the overseas investors are not eligible to claim their EB-5 visas.