The EB-5 Visa Bulletin for April 2020 has been released by the Department of State – Bureau of Consular Affairs. April marks the first month in which the new United States Citizenship and Immigration Services (USCIS) visa availability processing approach for I-526 petitions goes into effect.
Prior to the release of the Visa Bulletin, USCIS revealed important information about the new processing approach and its impact on the EB-5 program and EB-5 investors during a public stakeholder engagement on March 13.
The final action date for Indian E-5 investors has progressed quickly, with the new final action date moving up by more than two months to January 1, 2019. This quick progression is due to decrease demand from Indian investors, which will likely result in the backlog of Indian applications being cleared up by summer 2020, according to USCIS.
The final action date for Vietnamese EB-5 investors was January 8, 2017, in the March bulletin and has moved up to February 8, 2017, in the April bulletin. Unused visas that were formerly going to be allocated to investors from Mainland China are expected to be reallocated to Vietnamese investors due to the Chinese consulate currently being closed.
The final action date for Chinese EB-5 investors has not changed since the March bulletin and is still May 15, 2015. This is in part the result of the new visa availability processing approach for I-526 petitions that went into effect on March 31, 2020, which mainly affects EB-5 investors from Mainland China. In addition, Chinese investors residing in China have been unable to apply for their green cards due to the U.S. consulate in China currently being closed due to COVID-19.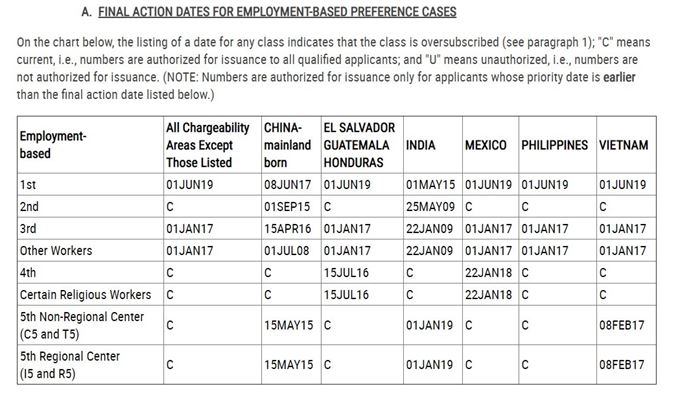 EB-5 investors residing in any country other than Mainland China, India, or Vietnam have current final action dates. This means that those investors can apply for their EB-5 visas once their I-526 petitions are approved.
Filing dates are current for investors from all countries except Mainland China. The filing date for Chinese EB-5 investors (December 15, 2015) has remained the same since the March 2020 Visa Bulletin.