EB-5 Program Growth
The EB-5 Immigrant Investor Program, which provides foreign nationals with a pathway to U.S. permanent residency via an investment in the U.S. economy, has been growing in popularity. FY19 EB-5 data released by the U.S. Department of State – Bureau of Consular Affairs shows significant EB-5 growth in a number of countries since FY17.
Mainland China remains the top country for EB-5 visas, but India, Vietnam, South Korea, Taiwan, and Brazil have been catching up in the last few years. As this is common knowledge, our focus will be on the countries next in line.
FY17 to FY19 EB-5 Visa Growth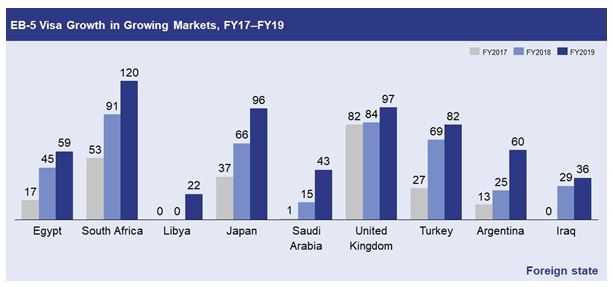 There are number of reasons why the EB-5 program has been increasing in popularity. As the opportunities provided by the EB-5 program becomes more widely known, the number of investors wishing to be get involved is also increasing. Below are some of the benefits of the EB-5 program, as cited by investors:
Visas are granted not only to investors but also to their spouses and unmarried children under the age of 21.
Children of EB-5 investors can be enrolled in the U.S. public school system and have improved chances of admission to U.S. colleges.
EB-5 investors can apply for U.S. citizenship after five years of being a permanent resident.
The United States, with its wealth and relative safety, offers an abundance of opportunities for success to its citizens and residents.
There is potential for an EB-5 investment to pay off financially for investors.
Based on the graphic, South Africa, Japan, and Argentina have all shown significant growth between FY18 and FY19. Even more notably, Libya, Saudi Arabia, and Iraq have gone from 0 or 1 visa in FY17 to 22, 43, and 36, respectively, in FY19.
Along with growth, there has also been a decline in EB-5 visa numbers in several countries in FY19. Russia and Pakistan both saw more than a 40% decrease between FY18 and FY19. Nonetheless, it is clear from the graph below that the listed countries are still strong EB-5 markets.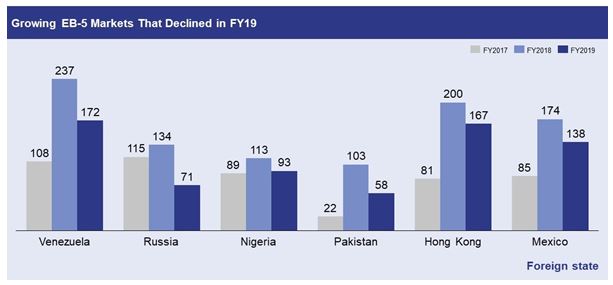 The data in the graph is representative of the number of investors who received their visas in the year in question, not the number of I-526 petitions filed during that year. Given that it takes United States Citizenship and Immigration Services (USCIS) roughly two years to process I-526 petitions, the data represents EB-5 demand from two years ago.
Importance of Investor's Country of Origin
EB-5 visas are capped at about 10,000 annually without regard for demand or population size, and each country is limited to roughly 700 visas a year. For countries with high demand, such as China and India, this means visa backlogs with wait times that are several years long.
Beginning March 31, 2020, USCIS will begin processing I-526 applications on a visa availability basis rather than a first-in-first-out basis. This will likely increase the wait time for investors in high-demand countries and drive growth in underrepresented countries.