As the world continues to battle the COVID-19 pandemic, more and more businesses and agencies are reopening in countries around the world. This includes U.S. embassies and consulates, which have announced a phased reopening. Although each consulate is running on its own schedule, the announcement comes as much-awaited news for the countless EB-5 investors who have been unable to land visa interviews to receive their EB-5 green cards.
The fear among EB-5 industry participants throughout the COVID-19 pandemic and the related shutdowns has been that as visa interviews resume at U.S. embassies and consulates, the sudden influx of new EB-5 investors eligible for visas may result in major visa retrogression, causing backlogs and delays. This fear has been especially strong for Indian EB-5 investors, as the Indian final action date leaped forward in a matter of months and finally became current in the July 2020 Visa Bulletin.
The September 2020 Visa Bulletin comes as visa interviews are slowly resuming in U.S. consulates around the world, yet the resumption of routine visa services has not triggered visa retrogression. The Indian EB-5 final action date remains current, and the Chinese and Vietnamese ones continue to move forward, albeit slowly. If consulates continue to open throughout September, the October 2020 Visa Bulletin could be more telling, but it depends on the extent to which visa services resume.
In September 2020's Chart A, the Indian EB-5 final action date is current for its third month, while the Chinese and Vietnamese final action dates have inched forward. The Chinese EB-5 final action date for September 2020 is August 8, 2015, which is one week later than in the August 2020 Visa Bulletin. The Vietnamese EB-5 final action date has similarly moved ahead one week to August 1, 2017. Though the progress is slow, it's a good sign that the gradual reopening of consulates has not had a discernible effect on final action dates. Time will tell whether the reopenings will affect future final action dates.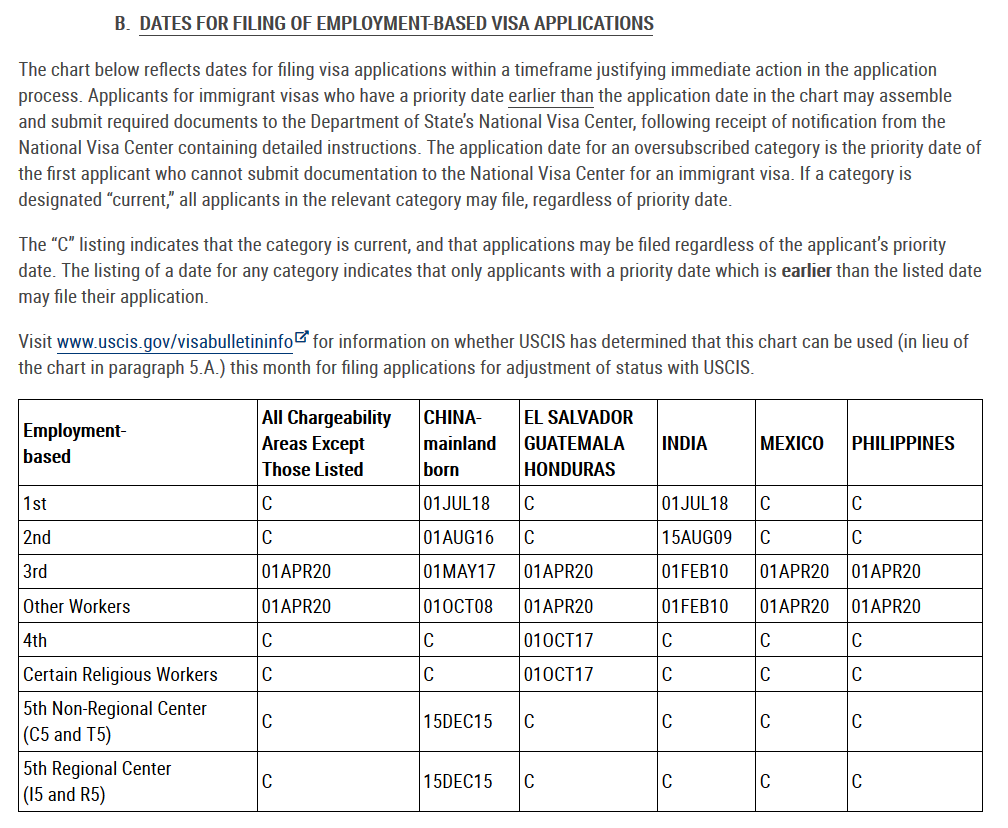 As for the EB-5 dates for filing in September 2020, China remains the only country affected, and the Chinese date for filing has remained at December 15, 2015, for another month. The date has remained in place for most of 2020, likely due to the shutdowns brought on by the pandemic. As visa services resume, the Chinese date for filing may advance, but it will probably do so slowly.