Every month, EB-5 investors from backlogged countries—in October 2020, just China and Vietnam—await the monthly Visa Bulletin to see whether they'll be eligible for a visa in the coming month. Generally, the final action dates move ahead, even if only slowly. In the October 2020 Visa Bulletin, Chinese and Vietnamese EB-5 investors may be disappointed to learn that the final action dates have not moved since September 2020's Visa Bulletin.
The good news is that change could be just around the corner. October 2020 is the first month of fiscal year 2021, which means when the October 2020 Visa Bulletin was drafted, United States Citizenship and Immigration Services (USCIS) did not yet know how many EB-5 visas would be available in FY2021. November 2020's Visa Bulletin could bring rapid final action date advancement thanks to a beneficial side effect of the COVID-19 pandemic. While the pandemic has brought untold hardships to hundreds of millions of people, including those who have made an EB-5 investment, the lack of visas granted in FY2020 means the EB visa budget in FY2021 is dramatically higher. For the EB-5 program, this translates to almost 9,000 more visas than average, making for a total of over 18,500 EB-5 visas.
One more factor complicates the Visa Bulletin for October 2020: the fact that the EB-5 Regional Center Program had been slated to expire on September 30, 2020. As the program hadn't been reauthorized at the time the October 2020 Visa Bulletin was drafted, all columns in Charts A and B for EB-5 regional center investors are marked with "U," or "unauthorized." The Regional Center program was indeed reauthorized, as had been expected, given that its many advantages, including reduced requirements for job creation, make it by far the most popular EB-5 investment pathway. Those who have made an EB5 investment through a regional center can simply assume that their final action dates and dates for filing are the same as for investors who have invested directly in an EB-5 program.
Final Action Dates in October 2020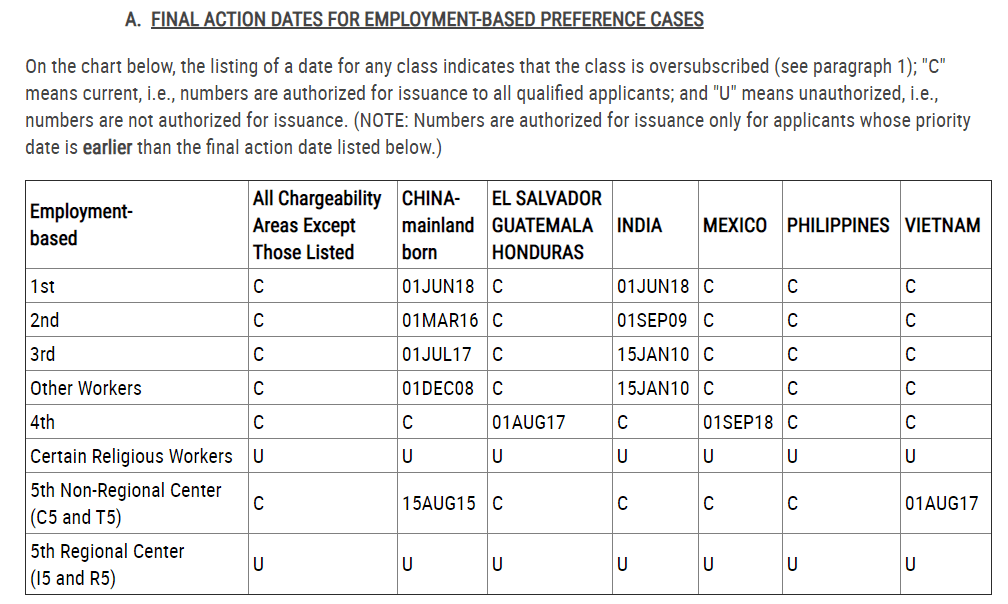 Indian EB-5 investors continue to enjoy "current" status, which was finally achieved in July 2020. Chinese and Vietnamese EB-5 investors, on the other hand, continue to be faced with delays. No new investors from either backlogged country are eligible to receive EB-5 visas in October 2020, as the final action dates for both countries have not changed since September 2020. Investors from China with priority dates before August 15, 2015, may receive an EB-5 visa, while Vietnamese applicants with a final action date prior to August 1, 2017, are eligible for a visa. Investors from both countries should now look forward to the Visa Bulletin for November 2020, which could potentially bring positive changes.
Dates for Filing in October 2020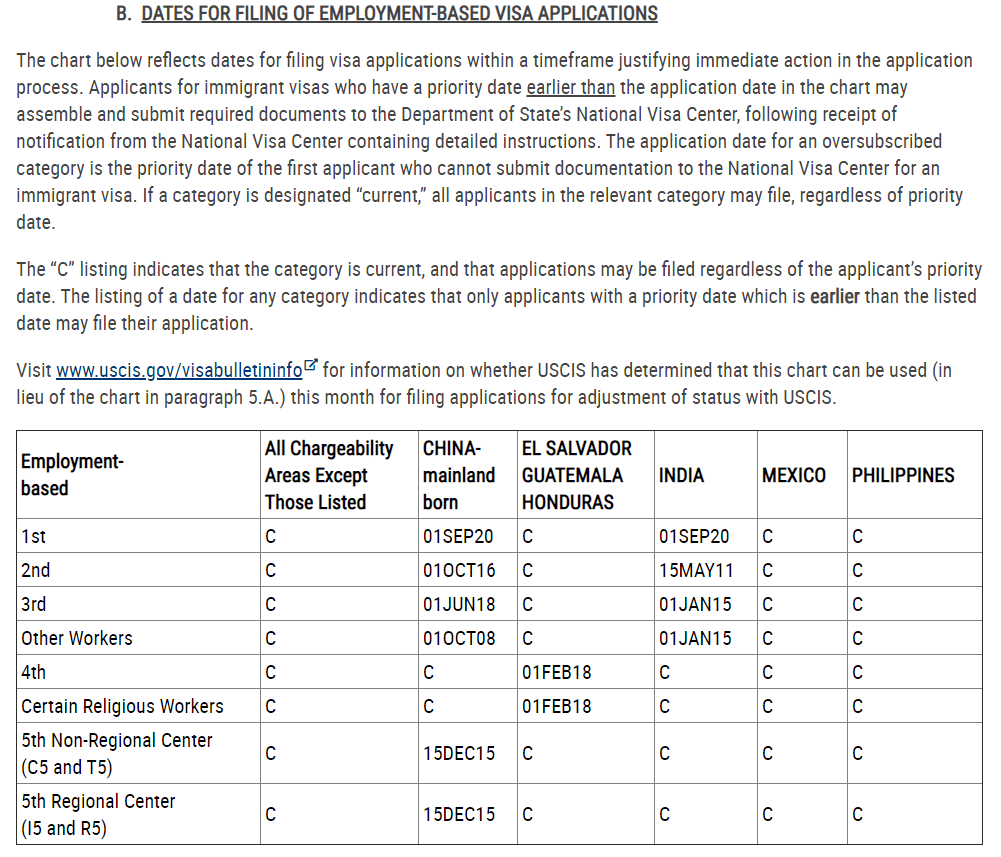 Thousands of Chinese EB-5 investors are still waiting just to file their application for U.S. permanent resident status, and with the date for filing staying put for several months, these EB-5 investors face extreme delays. The date for filing for Chinese EB-5 investors is December 15, 2015, which has remained unchanged for most of 2020.