The EB-5 Immigrant Investor Program offers foreign nationals a unique opportunity to receive permanent resident status in the United States in exchange for a qualifying investment in an EB-5 project. Each fiscal year, approximately 10,000 visas are allocated for the EB-5 program by United States Citizenship and Immigration Services (USCIS). This is enough for roughly 3,000 EB-5 applicants, as they can include immediate family members on their application. However, because of the unprecedented events that took place in 2020, there will be nearly double the normal number of allotted visas for the EB-5 program in FY2021.
Charles Oppenheim, chief of the Visa Control and Reporting Division for the U.S. Department of State (DOS), took part in a virtual keynote address at the end of FY2020 that discussed this increase in EB-5 visa availability. The main topics covered during the address were consular processing and EB-5 visa distribution in FY2021, information that is especially important for EB-5 investors from China, Vietnam, India, and other Asian countries. Oppenheim also discussed U.S. consulate processing volume and the potential for a shift in focus to adjustment-of-status applications.
Slowed Consular Operations Continue
Due to the COVID-19 pandemic, all U.S. consulates and embassies around the world were temporarily closed, leaving thousands of EB-5 investment participants unable to complete their visa applications and receive their EB-5 visas. A phased reopening plan began in August 2020 to allow the U.S. consulates and embassies to slowly begin to resume their visa services. Unfortunately, EB-5 visa processing is still much lower than normal, and Oppenheim said he has "no idea" when processing may increase again.
Because of the leftover visas from FY2020, many have predicted that the increased number of EB-5 visas available would lead to a major increase in the number of EB-5 visas distributed in FY2021. However, Oppenheim does not seem optimistic that this will be the case. The reduced consular operations will likely result in far fewer visas being distributed than are actually available for the fiscal year.
Data on EB-5 Visa Issuance
The presentation also included multiple charts that illustrated EB-5 visa issuance data from previous years. The data helped provide insights into visa distribution throughout the last fiscal year and the beginning of FY2021.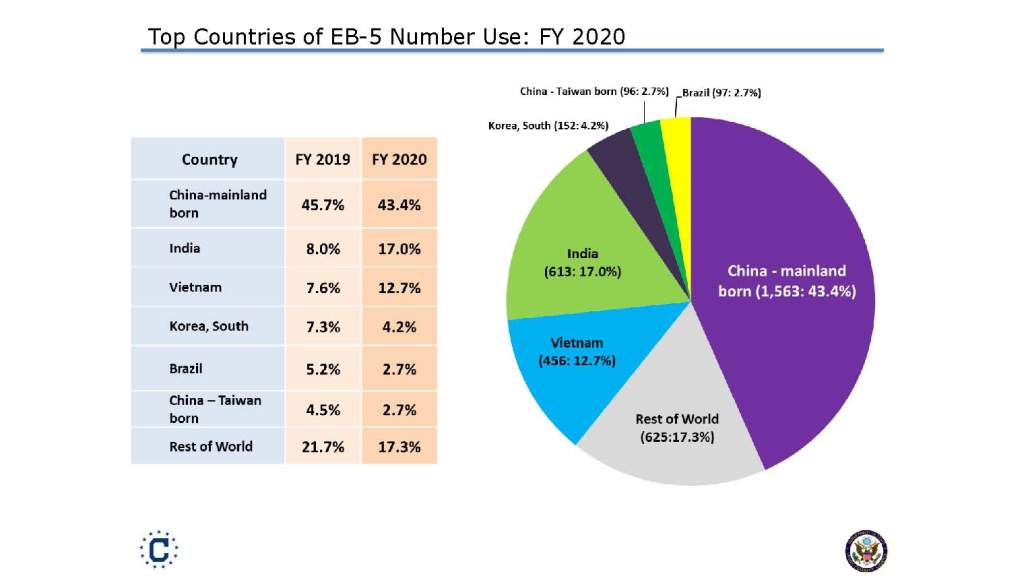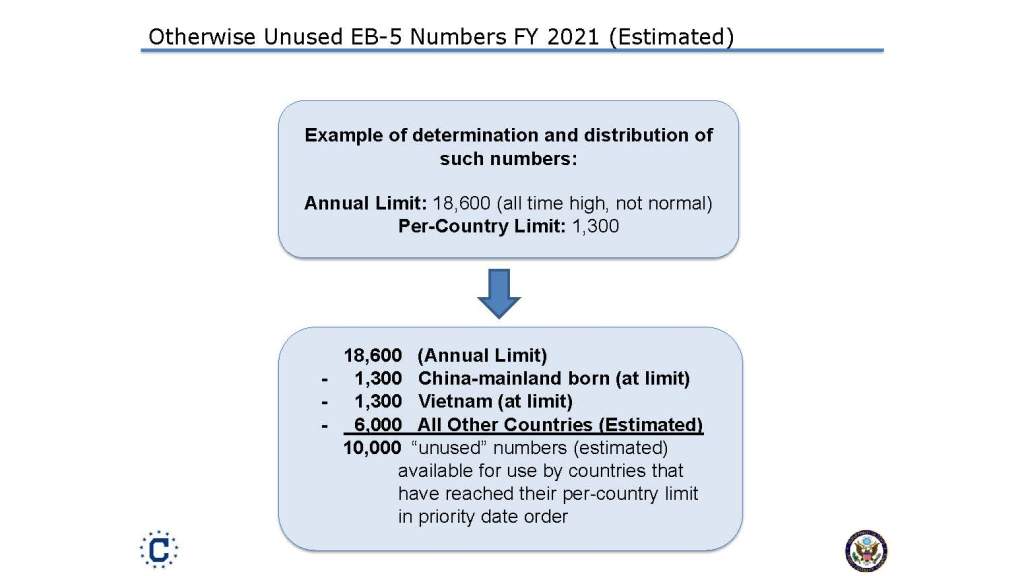 The main takeaways from this data are the following:
As a result of the U.S. consulate and embassy closures in 2020, only 3,602 of 11,112 available EB-5 visas were issued in the fiscal year.
Due to the leftover visas that were rolled over to the EB-5 program, the quota for EB-5 visas was set for 18,600 for FY2021.
As consular operations have not fully resumed, it is likely that only a small percentage of available EB-5 visas will be issued.
It is possible that there will be another year of backlogs and delays before the EB-5 program self-corrects the setback caused from the COVID-19 pandemic. Therefore, another rollover of visas could be expected at the end of FY2021. Oppenheim estimates that the EB-5 quota could get raised as high as 14,200 or more in FY2022.
Oppenheim Opines on Adjustment of Status as a Solution for Consular Slowdown
Oppenheim also discussed how focusing on adjustment-of-status applications could act as a solution to consular slowdown. While this shift in focus could potentially help get more visas distributed to those who have completed an EB5 investment, it does not seem likely that this course of action will be implemented.
Why Adjustment-of-Status Applications Aren't Likely to Advance
Throughout FY2020, only 1,117 EB-5 visas were issued via an adjustment of status, which is lower than the average in a normal year. This was not caused by a lack of visas available. As previously pointed out, FY2020 ended with roughly two thirds of available EB-5 visas left undistributed. Oppenheim also noted that this low number was not due to less demand, revealing that there were 2,500 I-485 petitions from Chinese EB-5 investors alone still waiting to be adjudicated. This means that the low volume of adjustment-of-status petitions processed in FY2020 was a result of the DOS choosing not to shift visa bulletin dates to allow the advancement of these applications, or it was simply caused by USCIS's delayed processing pace.
Either of these explanations is possible. Regardless, the lack of focus on adjustment-of-status applications in FY2020 makes it clear why many do not feel optimistic that this will change in FY2021. It's unlikely that these applications will help with EB-5 visa issuance throughout this fiscal year. Although, with the changes in administration that will be made following the U.S. elections, it is possible that some of the challenges of the EB-5 program will be removed. This is possible because the new administration will likely seek much more immigration-friendly policies.
Projections for the EB-5 Visa Bulletin in FY2021
Oppenheim touched on the relationship between Hong Kong and Mainland China, stating, "Hong Kong is still at this point treated as a separate foreign state, for IV purposes, going forward." He also pointed out that there is relatively low demand for the EB-5 program outside of China, Vietnam, and India. This means that there is little chance of other countries reaching their EB-5 visa limit during the fiscal year, resulting in a visa backlog.
He also offered some insights into what is to come in the 2021 Visa Bulletin.
Chinese Dates Are Unlikely to Advance in FY2021
Unfortunately for Chinese investors, Oppenheim stated that it is unlikely that China's dates for filing will advance anytime soon. He estimated that there would only be around 3,000 EB-5 visas issued for the remainder of FY2021, and between 3,500 to 4,000 visas issued in FY2022. Because China has nearly 8,000 applicants awaiting visas, Chart B will likely not advance for China until late into the 2022 calendar year.
While unlikely, there are two potential courses of action that could lead to China's advancement in Chart B. If the DOS increased their processing volume and visa distribution and manage to issue all 11,300 EB-5 visas available to China in FY2021, their date for filing could advance significantly. In the same way, if USCIS shifted their focus to Chinese adjustment-of-status applications, this could offset the delay caused from inoperable consulates and advance China's date in Chart B.
Vietnamese Dates Could Shift Again Before FY2021 Ends
Oppenheim reported that there are nearly 500 Vietnamese EB-5 petitions ready to be adjudicated. He estimated that the DOS could reasonably issue around 600 EB-5 visas to Vietnam in FY2021. If this estimate holds up, it is entirely possible that dates for Vietnam in the visa bulletin will advance again in FY2021.
India Will Likely Stay Current, Not Included on List of Countries "At Limit"
Oppenheim's presentation offered some mixed news for EB-5 investors from India. The country was not included on his list of countries that are "at limit," which is good news for those who have already received I-526 approval. It is estimated that there will be 1,300 EB-5 visas available for India in FY2021, and unless the number of Indian EB-5 investors nears this number, the visa bulletin dates will not advance during the fiscal year.
However, the reason India is not "at limit" for available visas is due to the 87% backlog on I-526 processing. Because I-526 petition adjudication remains a slow and delayed process, Indian EB-5 investors waiting for I-526 approval will likely see little movement in FY2021.