The release of the February 2021 Visa Bulletin by United States Citizenship and Immigration Services (USCIS) brought little positive news to EB-5 investment participants, save for a tiny subset of Vietnamese investors. The release comes amidst the backdrop of an ever-worsening global pandemic, with stronger travel restrictions and lockdown measures being rolled out nearly a year into the crisis, leaving little room for hope among EB5 investment participants and the broader world. The news of the EB-5 visa allocation for FY2021 nearly doubling had left many EB-5 stakeholders feeling positive about the new year, but for the first five months of FY2021, USCIS has chosen to forgo this rich opportunity to decrease the EB-5 backlogs, with the possibility of these thousands of EB-5 green cards failing to be issued before end of the fiscal year. Should that happen, the visas will be lost to the EB-5 program permanently, increasing investors' wait times to gain conditional permanent resident status in the United States.
The rollout of COVID-19 vaccines in the United States and other countries give rise to hopes of a COVID-free world in the relatively near future, but it seems the world must first suffer a dark period of strengthened measures to keep new variants of the virus at bay. What will happen to EB-5 investments in 2021 remains to be seen, but it's entirely possible investors will experience the same hardships as in 2020. Dramatic improvement is also possible, however—the ever-changing nature of the pandemic makes predictions near impossible. The pandemic isn't all that EB-5 investment stakeholders have to contend with in 2021, either. EB-5 industry leaders believe the EB-5 Regional Center Program could be in danger of termination without the united efforts of the EB-5 world to enact stronger integrity measures.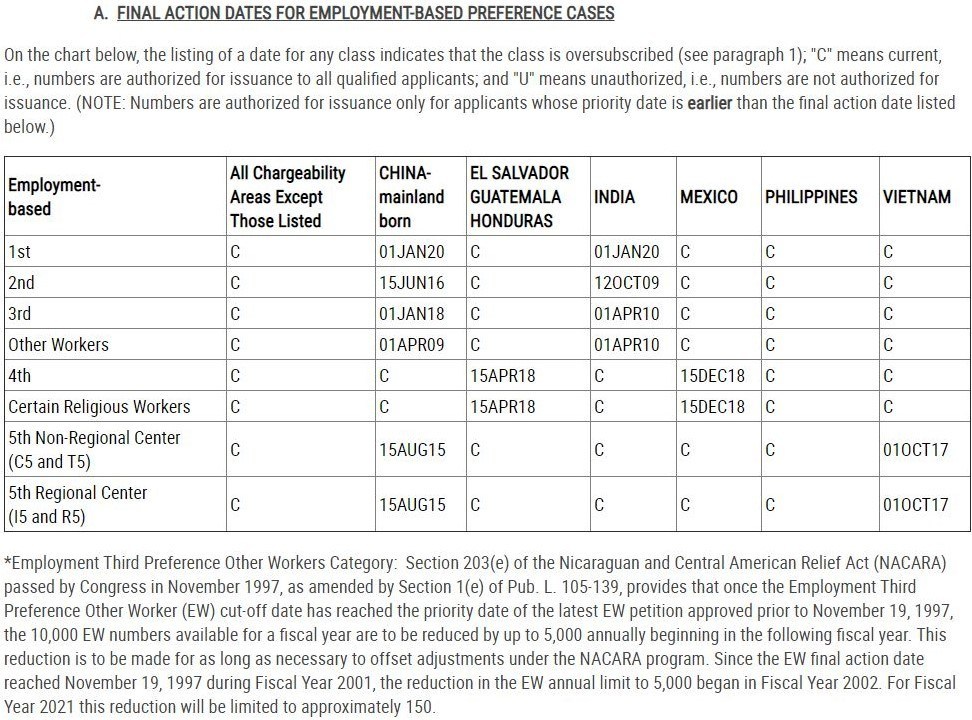 Indian EB-5 investors aren't affected by the February 2021 Visa Bulletin, as India has enjoyed "current" status since July 2020. The situation is different for those pursuing EB5 investments from China and Vietnam, however. Of these nationalities, Vietnamese investors are the lucky ones, with the February 2021 Visa Bulletin presenting a final action date of October 1, 2017—two weeks later than that of the January 2021 bulletin. Chinese investors find themselves robbed of even two weeks of advancement, with the final action date for Chinese EB-5 investors staying put at August 15, 2015, with no movement since the Visa Bulletin in August 2020.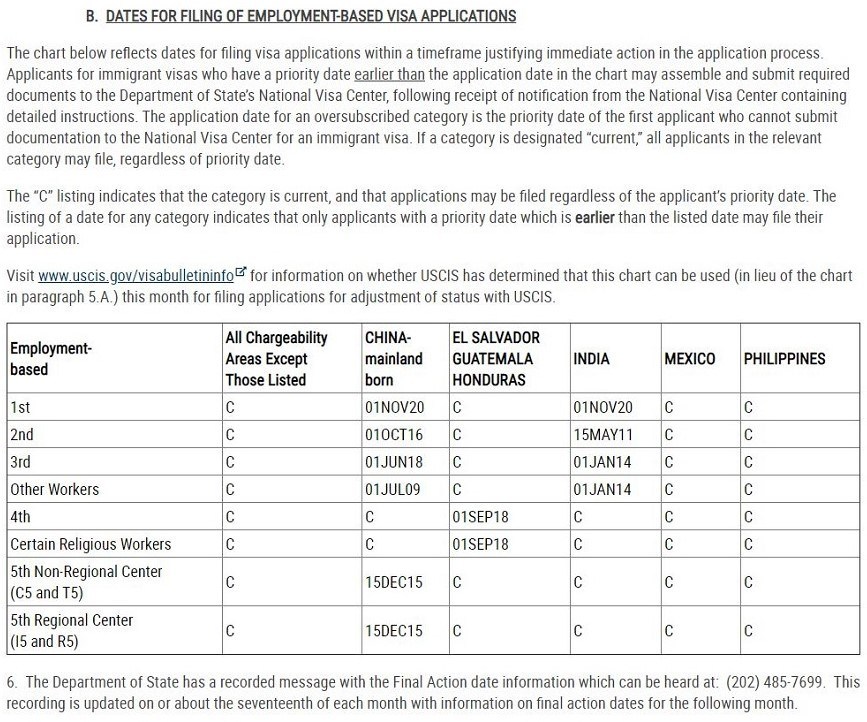 Chinese EB-5 investors are easily the most disadvantaged as of January 29, 2021. Not only do EB5 investment participants from China face a final action date four and a half years in the past, they must also contend with a date for filing sitting tight at a date more than five years ago. This means that not only are Chinese investors not receiving EB-5 green cards, but they aren't even allowed to file their application for a green card, despite attaining I-526 approval. The Chinese date for filing is December 15, 2015, as it has been for 11 months since March 2020. In March 2021, Chinese investors could achieve a one-year milestone of non-movement of the date for filing, and although the future is impossible to predict, such an outcome would hardly be surprising.