United States Citizenship and Immigration Services (USCIS) has recently made some changes to its estimated processing time range calculation methods. In August 2020, the agency introduced separate estimated processing time ranges for Chinese EB-5 investors, differentiating them from EB-5 investors from the rest of the world. This change was made as a result of the large visa backlog that China is facing. With the new visa availability approach adopted by USCIS, Chinese investors will most likely experience much longer wait times for I-526 adjudication than investors from all other countries.
Despite this announcement, the Check Case Processing Times page on USCIS's website has created quite a bit confusion. The site offers three different time ranges: one for Chinese investors, one for all other investors, and one unspecified time range. Users are not told what the purpose of the unspecified time range is or how it is calculated. The site also states that USCIS "process[es] cases in the order [they] receive them," which does not reflect the new visa availability approach that began in April 2020.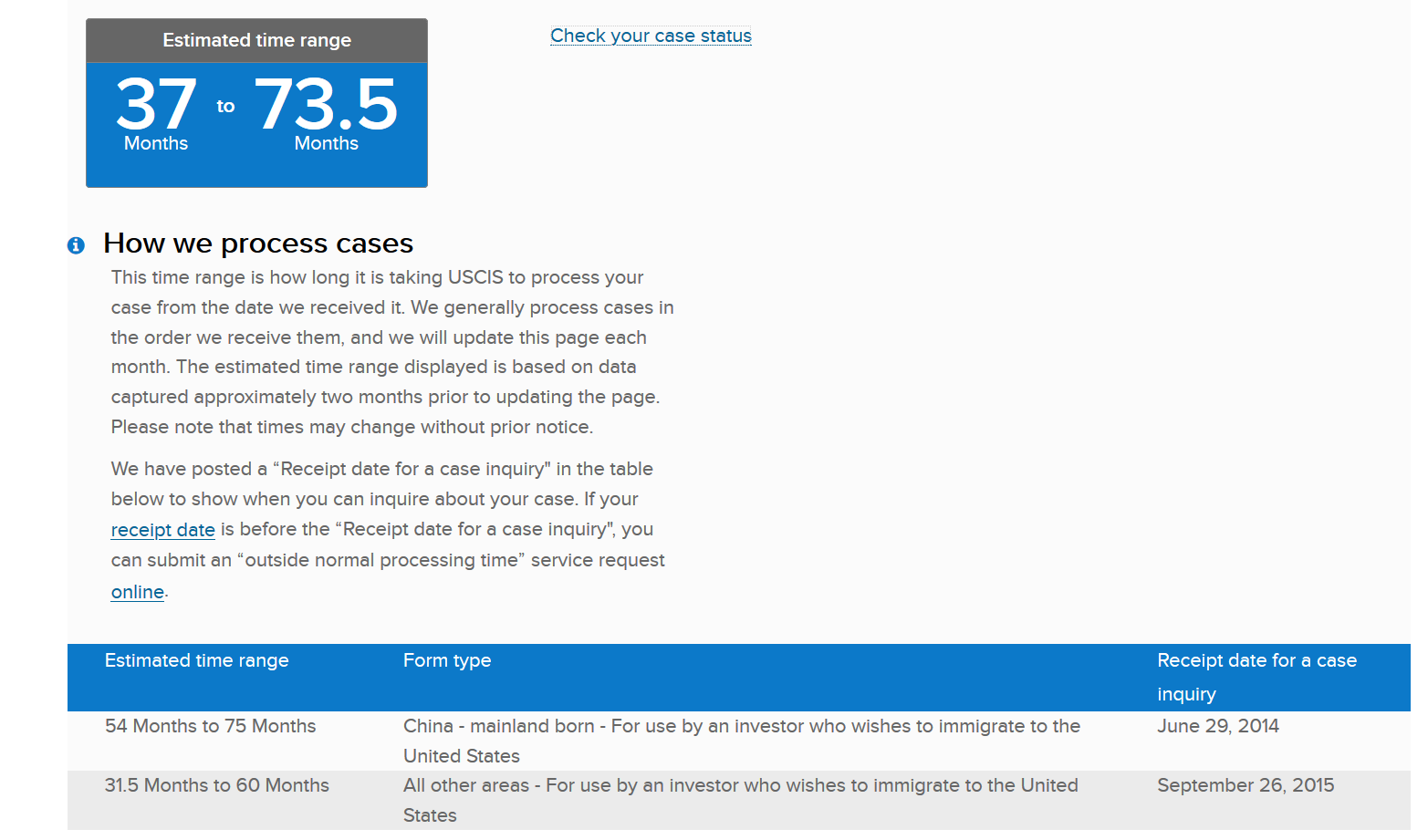 The case inquiry dates are also a cause for concern for EB-5 investors. The date for case inquiry for Chinese investors is June 29, 2014, and for all other investors, it is September 26, 2015. As it is, EB-5 investors are forced to wait five to six years before they are permitted to inquire about the unusually long wait time for I-526 adjudication. However, the historical processing data shows that in FY2020 up until June 30, 2020, the average processing time for I-526 adjudication was only 13.7 months. This should bring a sense of relief to investors, suggesting that a five- to six-year waiting period is not overly common.
In addition to the mysterious extra estimated time range and the concerning date for case inquiry, the upper limit for both time ranges also appears to be inaccurate. As of September 2020, the estimated processing time range for Chinese investors is 54 to 75 months, which would mean that I-526 petitions received between May 2014 and February 2016 are currently being processed. However, based on a case receipt data release by USCIS in October 2018 (which was later removed in July 2019), the global backlog should be cleared up to April 2017. This is assuming that the agency processed I-526 petitions using a first-in-first-out approach up until April 2020. If all of this data is correct, it would mean that USCIS is not processing any I-526 petitions from Chinese investors.
If the global backlog has actually been cleared up to April 2017, this also means that the current dates for case inquiry, June 29, 2014, and September 26, 2015, prohibit almost all EB-5 investors from filing a case inquiry. By providing inaccurate estimated processing time ranges, USCIS is essentially stopping all possible case inquiries.