Almost every country on the planet has been dramatically affected by the COVID-19 pandemic, even if they haven't seen high numbers of infections. Nations worldwide have shut down public life and implemented strict lockdowns to help curb the spread. The United States is no exception, having introduced lockdown measures in March 2020. Nonetheless, the EB-5 Immigrant Investor Program has carried on throughout the chaos, processing I-526, I-829, and I-485 in the midst of the worst pandemic in a century.
The EB-5 program has, however, been severely affected by the pandemic and lockdowns in other ways. Notably, United States Citizenship and Immigration Services (UCSIS) closed all its offices to the public in March, reopening only on June 4. In-person appointments and interviews are now permitted, but deadline extensions for requests for evidence (RFEs) and notices of intent to deny (NOIDs) continue to apply until July 1. All EB-5 investors who receive an RFE or NOID between March 1 and July 1 are granted an extra 60 days beyond the due date specified on the notice to respond.
At this unpredictable point in history, it's impossible to know what will happen with the EB-5 program as we move forward through the pandemic. It's still possible to make guesses, however. Here are some of the possible developments the EB-5 program could see in 2020.
More Lawsuits Against USCIS
Of course, the pandemic isn't the fault of the Immigrant Investor Program Office (IPO), but it could spur more lawsuits in a roundabout way. The IPO adjudicated an overwhelmingly low number of I-526 petitions in FY2019 and seems to be on track to repeat this trend in FY2020. FY2019's low adjudication rates are particularly noteworthy when compared with FY2018's sky-high rates, and the difference can largely be attributed to the change in management style when Sarah Kendall assumed leadership of the organization. Investors have suffered under the IPO's recent adjudication practices, waiting unreasonably long amounts of time for I-526 approval and losing trust in the program. This situation may be responsible for Indian nationals losing interest in the EB-5 program.
In 2019, the IPO's unreasonable processing practices went unpunished, but the pandemic may usher in a wave of change. With lawyers out of work due to the lockdown, they may turn to the EB-5 program as an additional source of income, helping EB-5 investors file lawsuits against USCIS for its incredibly slow processing. Holding USCIS accountable and speeding up processing is in the best interest of everyone in the EB-5 industry, as it also helps project developers access EB-5 capital sooner and create jobs for the everyday U.S. worker more quickly. With all the damage the U.S. economy has sustained due to the COVID-19 lockdowns, the United States needs EB-5 jobs more than ever.
Uneven Distribution of EB-5 Visas
One of the most severe changes to the EB-5 program during the pandemic has been the temporarily closure of U.S. embassies and consulates around the world. While they continue to provide emergency services, they have temporarily ceased routine visa processes, meaning EB-5 investors cannot schedule visa appointments and apply for their EB-5 visas. The global shutdown of U.S. embassies remains in place as of June 17, 2020, forcing investors in China, India, Vietnam, and other major EB-5 countries to wait indefinitely to start their life in the United States.
In FY2020, there are 11,112 visas available for the EB-5 program, according to the Department of State. Broken down, this earmarks 778 visas for Indian and Vietnamese EB-5 investors and leaves approximately 5,270 leftover visas for Chinese investors. In a normal year, visas are issued steadily throughout each quarter, with the distribution staying relatively even. However, normal distribution is impossible in FY2020, with embassies and consulates around the world closed. The actual visa issuance in FY2020 differs starkly from the predictions made in October 2019.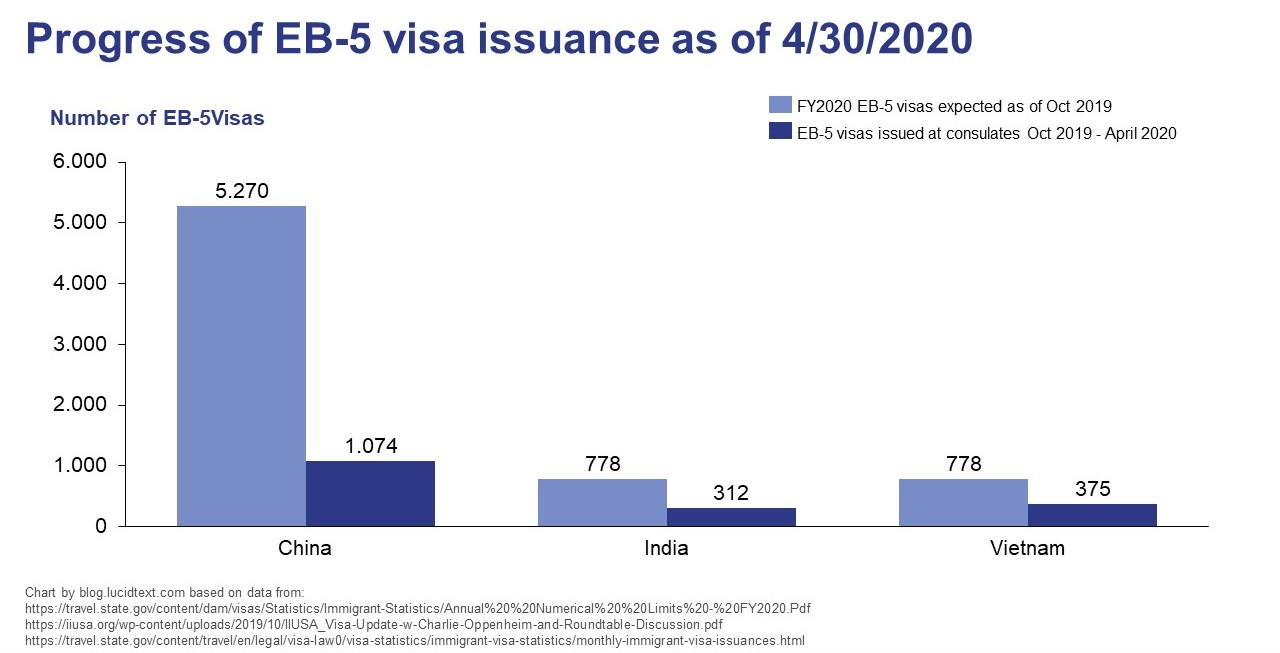 The Future of EB-5 Visa Processing in FY2020
The future of EB-5 visa processing in FY2020 depends on how quickly the embassies and consulates reopen. The uncertainty of the pandemic makes predictions difficult, but here are a few possible paths EB-5 processing could take in FY2020.
Domestic EB-5 Investors Could Dominate Visa Allocation
While most EB-5 investors reside overseas, not all do. There are also many foreign nationals who invest in an EB-5 project while living in the United States on a different visa. These investors are eligible to claim EB-5 permanent resident status by submitting an I-485 petition, which allows them to change their immigration status. The number of pending I-485 petitions is unknown, since USCIS doesn't release that figure, but it's likely a small number, given statistics from previous years. It's entirely possible that USCIS could grant visas to all domestic applicants in FY2020 and still wind up with many visas left over.
USCIS Could Speed Up and Issue All EB-5 Visas
It's possible USCIS could grant all allocated EB-5 visas in FY2020, but it depends on two important factors: when the U.S. embassies and consulates reopen, and whether USCIS can speed up its adjudication process. If the consulates and the IPO work quickly to get investors through the system and pump out visas, it would be possible to issue all EB-5 visas before the end of the fiscal year on September 30, 2020. Each country is likely to take its own approach in terms of reopening consulates, but the largest factor will be the embassies and consulates in China, as most EB-5 applicants come from China.
EB-5 Visas Could Be Rolled Over to EB-1 in FY2021
If the consulates stay closed for too long and USCIS doesn't pick up its processing pace, the program risks losing numerous visas—permanently. Unallocated visas will roll over to the EB-1 program in FY2021, so USCIS should work on issuing as many as possible in FY2020 to avoid even larger backlogs in the future.