The Department of State (DOS) releases monthly Visa Bulletins, which contain invaluable information for visa applicants. The final action dates and dates for filing shown in each Visa Bulletin indicate when EB-5 investors from backlogged countries can apply for and receive their conditional residency visas. Once an EB-5 investor's priority date (the date on which they filed Form I-526) catches up to the applicable cutoff date, they will be able to request or obtain their visas. In the past, India, Vietnam, and China have been subject to such cutoff dates, but, as of the November 2021 Visa Bulletin, only China was still oversubscribed.
To the relief of Chinese direct EB-5 investors, the DOS removed the cutoff dates for all direct EB-5 applicants in the December 2021 Visa Bulletin. The January 2022 Visa Bulletin shows that direct investors still enjoy "C" (current) status and can thus go through the EB-5 investment process without delays caused by the cutoff dates.
Despite this welcome relief for Chinese investors, the EB-5 Regional Center Program, previously the most widespread EB-5 investment option, has suffered a legislative lapse since June 2021. It is unclear when the regional center model may be revalidated by the U.S. government, but it is unlikely for this to take place before February 2022.
Chart A, "Final Action Dates for Employment-Based Preference Cases"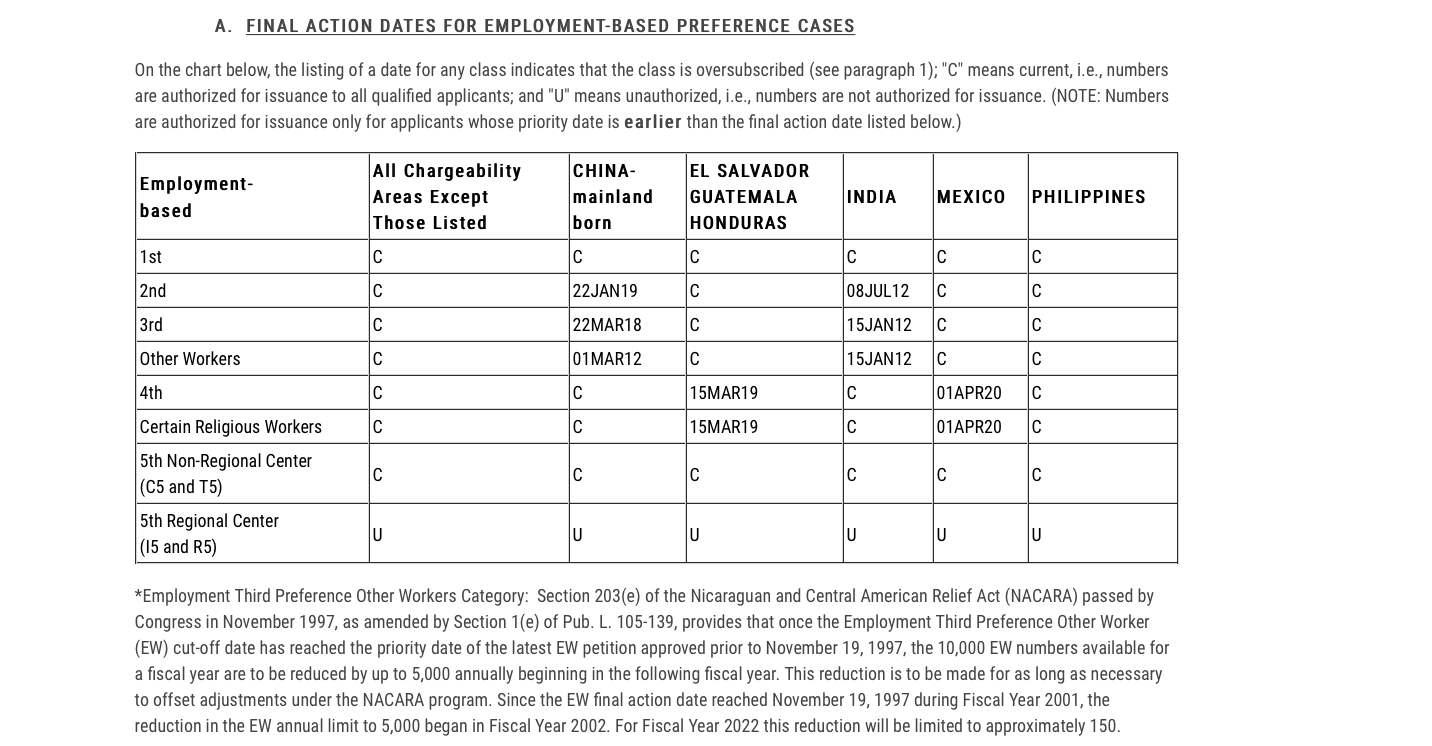 Chart A of each Visa Bulletin indicates the final action dates for backlogged countries. As mentioned previously, direct EB-5 investors from all countries, including China, are no longer subject to a final action date; they can receive their visas after their I-526 petitions are approved by United States Citizenship and Immigration Services (USCIS).
Due to the lapse in regional center EB5 investment, the regional center values are marked as unauthorized. Should the regional center program be revalidated in January 2022, the final action date for regional center investors will be November 22, 2015.
Chart B, "Dates for Filing of Employment-Based Visa Applications"
Chart B contains the dates for filing for backlogged EB-5 categories. Unlike direct investors, regional center EB-5 visa applicants are subject to a date for filing of December 15, 2015. This date dictates when EB-5 investors can apply for their conditional residency visas.
The DOS's removal of cutoff dates for direct EB-5 applicants will surely bolster the popularity of the direct EB-5 investment model. Many foreign nationals have obtained their EB-5 visas after investing in direct EB-5 projects.