It is not possible to predict how long any given EB-5 investor will have to wait for I-526 adjudication. Since each I-526 petition includes different information and documentation about the investor and EB-5 project, United States Citizenship and Immigration Services (USCIS) requires a different amount of time to adjudicate each one. FY2020 has so far brought good news for EB-5 investors, however: I-526 average processing times have dropped by a substantial margin. This is cause for celebration, but bear in mind that it does not necessarily mean a given EB-5 investor will receive faster processing.
The Basics of the I-526 Petition
Filing an I-526 petition with USCIS is how an EB-5 investor launches his or her EB-5 journey. In a typical case, the investor transfers the EB-5 funds to the EB-5 project—generally an escrow account—and files the I-526 petition shortly after. While investors should count on typically waiting one to two years to receive an adjudication, processing times vary substantially depending on where the EB-5 investor is from, the EB-5 project he or she has invested in, and the sources of his or her EB-5 capital, among other factors.
USCIS requests that investors include a significant amount of supplementary documentation with their I-526 petitions. EB-5 investors must present various documents related to their investment capital—both that they have invested the appropriate amount and that they legally obtained the money. Under the current EB-5 rules, which came into effect in November 2019, the minimum amount investors must demonstrate they have committed to the EB-5 project is $1.8 million or $900,000, depending on whether the project is in a targeted employment area (TEA).
USCIS also requires EB-5 investors to provide documents on the new commercial enterprise (NCE). One of the requirements of the EB-5 program is that an investor's capital funds the creation of at least 10 new full-time jobs, so investors must present documentation that projects this outcome, such as a hiring schedule and an economic report calculated using accepted methodologies. A further requirement is that the EB-5 investor is actively involved in the management of the project, which requires further documentary proof. Those who invest through regional centers, however, generally need only prove that they are limited partners of the NCE.
Once an overseas EB-5 investor's I-526 petition is approved, he or she can get in touch with the National Visa Center (NVC) to apply for a U.S. green card. Investors who already live in the United States can similarly fill out and submit Form I-485, which adjusts their immigration status and grants them a green card. Family members are included: Investors' spouses and children, as long as they are unmarried and younger than 21, also receive EB-5 visas. The conditional permanent residency investors initially receive lasts two years, and to remove the conditions, investors file the I-829 petition.
Five-Year Record-Low Average I-526 Processing Times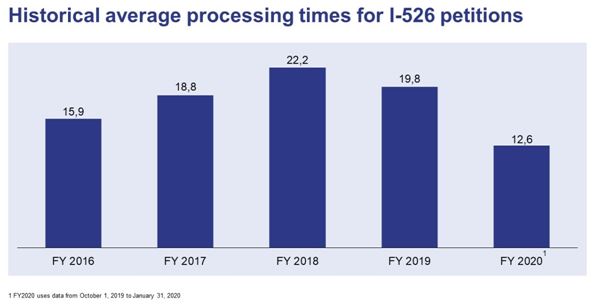 In the context of the EB-5 program, a year is quick—investors should not expect faster adjudication than that. Generally, the wait is closer to one and a half or two years. In FY2018, EB-5 investors waited on average 22.2 months for I-526 adjudication, with many waiting over two years, and in FY2017 and FY2019, the average wait times were closer to one and a half years. FY2020 has brought a welcome change, however: a 40% drop to only 12.6 months. One of the lowest I-526 average processing times in EB-5 history, this average means many EB-5 investors are even receiving I-526 adjudication in less than a year.
2020 is an unprecedented year not only for the EB-5 program but for the world as a whole. As countries worldwide fight the COVID-19 pandemic, the U.S. government has shut down U.S. consulates globally and USCIS banned public visits to its offices. Nonetheless, the Immigrant Investor Program Office (IPO) trudges on, processing I-526 petitions for EB-5 investors around the world. The global crisis could have an unexpected positive side effect: With the IPO unable to pursue other activities, I-526 average processing times may drop even lower.