An eventful month in EB-5 history, March 2022, saw President Joe Biden legalize the EB-5 Reform and Integrity Act, which authorized numerous changes to EB-5 investment regulations. Some of these desirable changes include increasing the integrity and transparency of EB-5 offerings. Experts believe this will substantially reduce the immigration and economic risk of investing in the EB-5 visa. The Act also included provisions for a pressing matter: the suspension of the regional center program. 

With the suspension of the regional center program in June 2021, EB-5 investors with pending I-526 petitions were forced into financial limbo, as United States Citizenship and Immigration Services (USCIS) was unable to adjudicate their applications. This unjust state of affairs could have resulted in lawsuits against regional centers and jeopardized billions of dollars of EB5 investment funding. 
Thankfully, the new Reform and Integrity Act has enabled the regional center program to run until 2027, an advancement which can only be reassuring to investors. Another fortunate provision is the grandfathering clause, which will include all investors who submit their I-526 petitions on or before September 30, 2026. 

The revisions included in the new Reform and Integrity Act pertaining to the regional center program will not be implemented until mid-May 2022. As a result, the April 2022 Visa Bulletin doesn't reflect the adjustments mentioned above. 
Chart A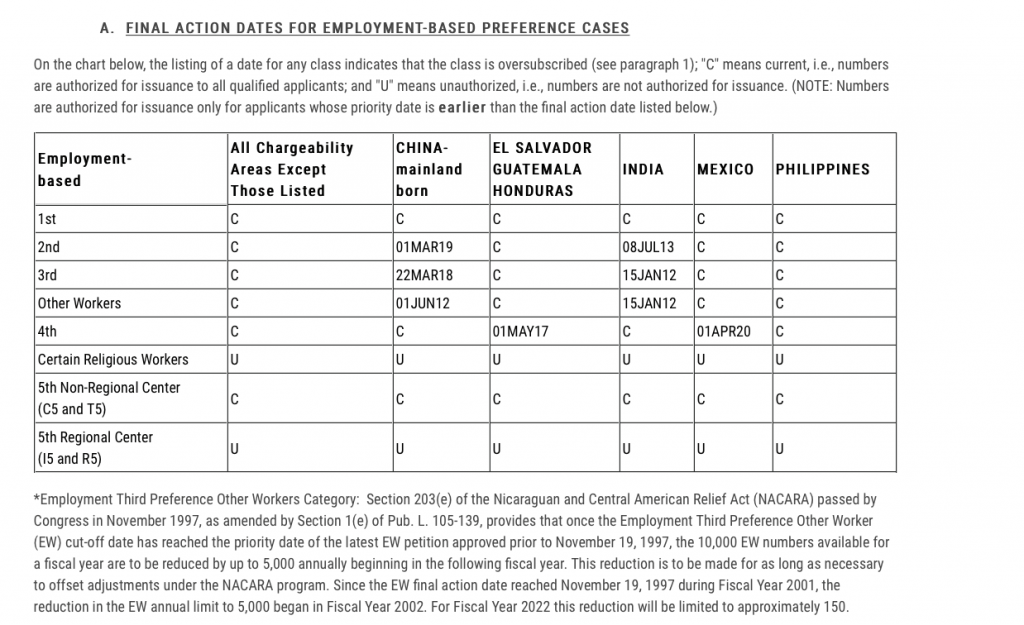 Chart A for the Visa Bulletin demonstrates the cut off dates for EB-5 investors from oversubscribed countries. These dates indicate, upon approval of their I-526 petition, when EB-5 investors can obtain their two-year conditional residency visas. While the values in the "5th Regional Center" row are still marked as "Unauthorized", all investors following the direct investment model have "Current" status. Once USCIS begins adjudicating from I-526 petitions from regional center investors again, this may change. As the most oversubscribed country, China might again become oversubscribed. As such, Chinese investors are advised to begin the EB-5 process soon before this takes place. 

Chart B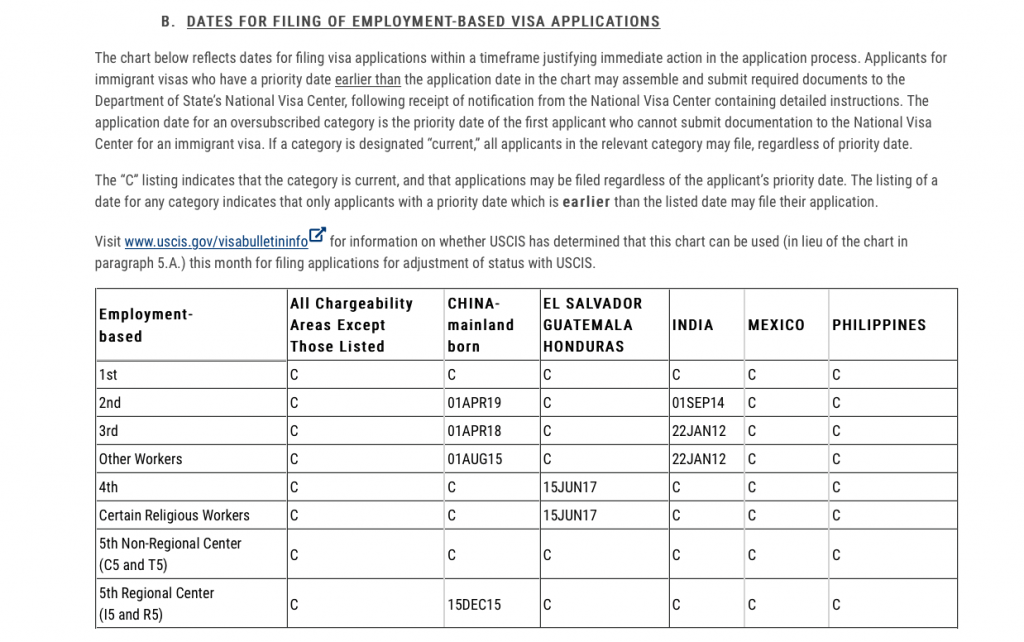 Chart B for the Visa Bulletin indicates the filing dates. Only applicable to Chinese investors, filing dates set limits on when investors can submit applications for their residency visas upon receiving approval for Form I-526. While Chinese investors following the direct model have "Current" status, Chinese investors following the indirect model/regional center program still have a filing date as of December 15, 2015.
The EB-5 investment industry is undoubtedly at a noteworthy watershed moment. Final action dates will remain a point of interest for regional center investors, who should keep an eye on forthcoming Visa Bulletins.